Discover more from LA Pays Attention (Archive)
Lessons in government and how to participate in it. An email newsletter for the citizens of Los Angeles. This is the archive. LA Pays Attention has moved to lapaysattention.com
Over 1,000 subscribers
How much power does LA's Mayor really have?
The Mayor has a large role to play in the lives of Angelenos, especially during the COVID-19 crisis. And yet, I hear a lot of confusion about exactly what he can and can't do. 
Can he order people to stay home? (Yes) 
Can he close businesses? (You know it)
Can he make a librarian become a firefighter? (Yes, during an emergency)
Can he take someone's private property? (Yeah, this too)
As I learned from law professor Jessica Levinson recently, while all Americans have rights under the US Constitution, the rights of individuals can be temporarily diminished to protect the public at large. This is exactly what happened during the Mayor's emergency declaration in March.
In this issue, I'll unpack exactly how much power the Mayor of Los Angeles has. We'll also take a fun stroll down mayoral memory lane with a few notable LA figures.
Why we care about the Mayor
It's not easy to keep track of all the people who represent you but a few key roles stand out. Most people know we have a President. Maybe they know Governors exist. And they probably know we have a city Mayor.
The Mayor's role is important both because of his actual power and also because of his perceived power.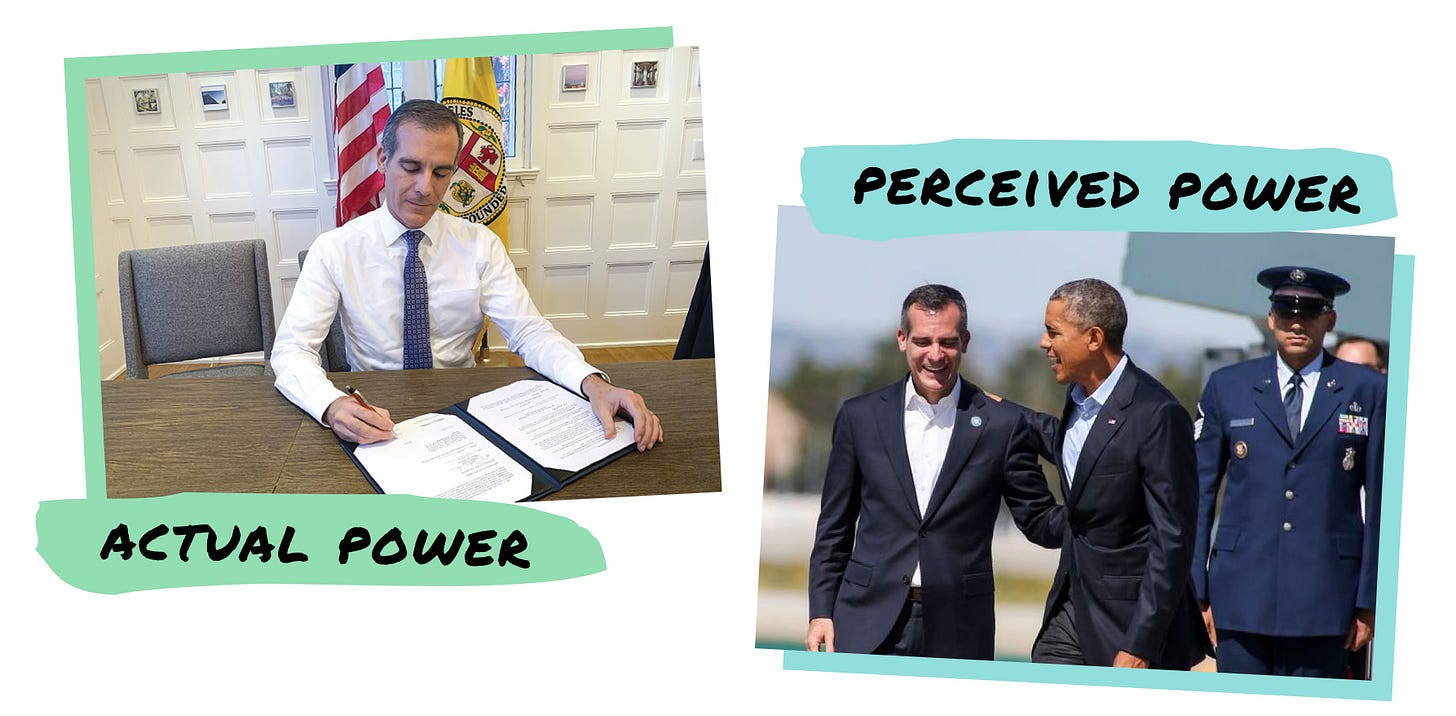 The Mayor of Los Angeles (like the Mayor of New York) holds an elected office that reaches far beyond City Hall. The actions of these famous figures can influence our entire nation and even other counties around the world. 
We'll get into the details of what the Mayor is legally able to do but I want to emphasize that his power is not limited to his job description. Big city mayors have an opportunity to cast a forward thinking vision for their cities. They can convince anyone from a high school teacher all the way up to the President to take action on an issue (even when they themselves may not have the legal authority to do so). And they can enlist the help of rich donors like the Annenbergs, the Hiltons or the Broads to accomplish their goals. As former LA Mayor Richard Riordan knows, you can get a lot done if you've got enough cash.
"As in most cities, the mayoralty of Los Angeles is what the mayor makes of it."

From the LA Times editorial "What Makes a Strong Mayor"
What does the Mayor do
As I mentioned in an earlier issue, I often hear people say LA has a "weak mayor system," meaning that the Mayor has little real authority. While that may have been true in the past, I can't find any evidence that's the case now. 
The terms "weak mayor" and "strong mayor" have clear definitions. LA's Mayoral powers checks all the boxes on the strong mayor side. Our Mayor is the chief executive of LA. He has veto and emergency powers. He oversees the daily operations of the city. He's elected by voters, not appointed by the city council. He chooses who will take on key roles throughout the city. And he has a big say in how the city spends its money.
Beyond the impact of his influence, the Mayor does have a set of prescribed powers and responsibilities as defined in the City Charter and Administrative Code. 
The Mayor of Los Angeles is charged with:
📖 Overseeing the enforcement of all city ordinances (laws)

🎗️ Appointing many key city positions
For example, the Police Chief and the general manager for LADWP

👀 Managing and supervising most city departments, agencies and appointed offices

👥 Coordinating between city departments

💸 Preparing the annual city budget
The budget is approved by City Council, but the Mayor can veto their vote

🌍 Representing the city in international relations

🔥 Declaring local emergencies and coordinating the city's response
Sure doesn't seem very weak, does it?
The Mayor also has his own staff that directly report to him. He appoints and hires people to lead efforts that are high priority for his agenda. For example, former LA Mayor James Hahn created a position for a Deputy Mayor of Education. Current Mayor Eric Garcetti initiated a role for a Chief Design Officer.
As we've seen in the last couple months, our Mayor is calling the shots on the stay at home order in Los Angeles. And since he's declared a state of emergency, he's unlocked even more power at his fingertips like the ability to deploy any city employee to do another job entirely and the authority to commandeer private property for government use.
How does this differ from what City Council does
Remember learning about the executive, legislative and judicial branches of government? 
The Mayor leads our city's executive branch. City Council leads the legislative branch.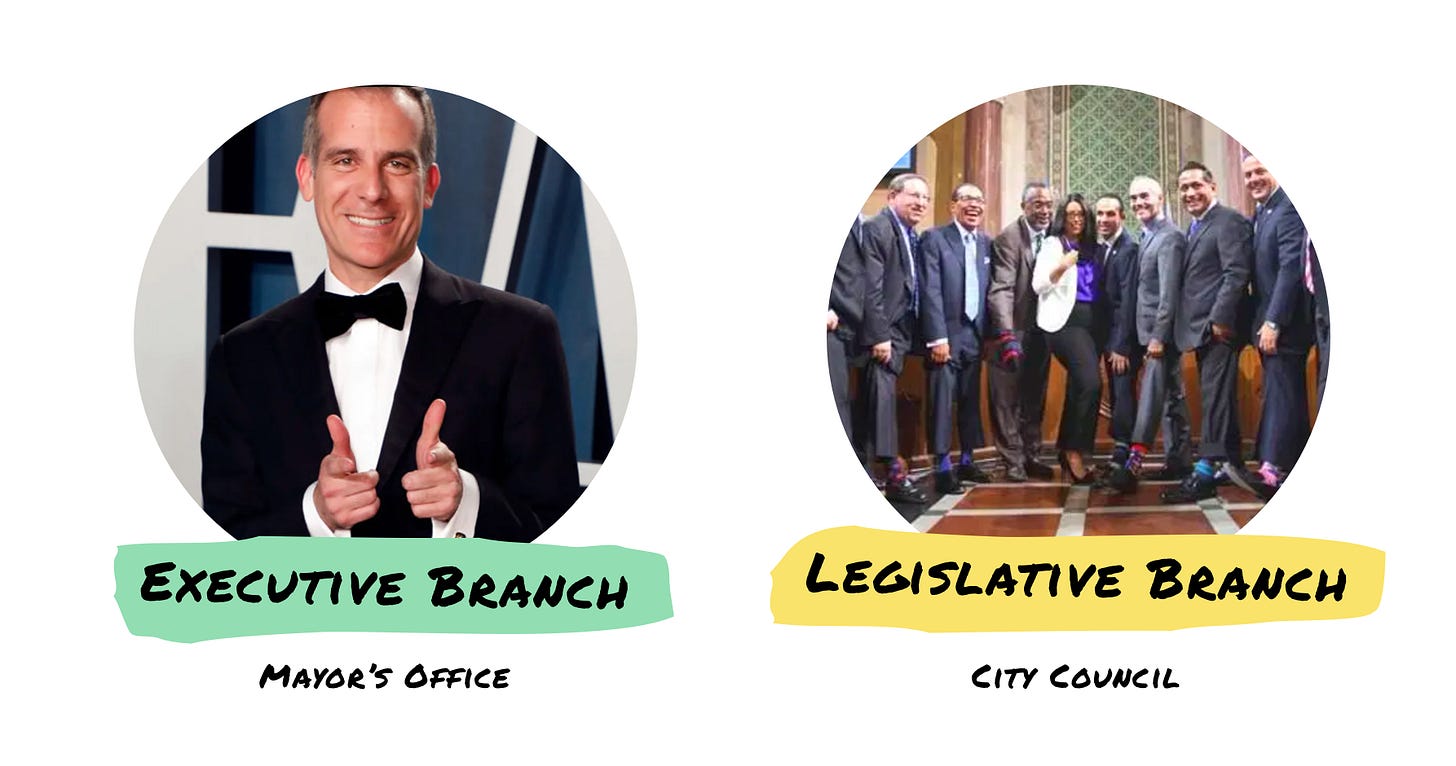 This could be why people think the mayor is weak in power, since City Council passes most of our laws. Again, this is still considered a strong mayor system. Or you could say a strong mayor-council system.
City Council is our governing body. They too hold a lot of power as we covered in Issue 1. But the Mayor also has his share of authority and as I explained above, a ton of influence. 
Our current Mayor
Eric Garcetti is the 42nd Mayor of Los Angeles. He was previously on City Council, serving as Council President for several years. His dad, Gil Garcetti, was formerly the District Attorney for LA. They both have IMDb pages.
Garcetti (aka "Gar-Sweaty" as his college pals called him) is a native Angeleno who has Jewish and Mexican heritage. He really wants you to know that he speaks Spanish and he proves it in every public speech he gives. He also knows how to play the piano and how to pick out a suit that actually fits.
But his time in office has not been quite as smooth as his signature red tie.
Journalists like to ask "what has Garcetti accomplished as Mayor?" 
For many of us, the real question is "what has Garcetti failed to accomplish?"
When Garcetti ran for Mayor in 2013, he highlighted both his passion for innovation as well as a focus on going "back to basics." The city was facing a large budget crisis when he was Council President and he believed the city could be run more efficiently. 

Mayor Garcetti often appears to be someone who has good intentions. His priorities are aligned with the major problems our city faces. Unlike a certain national leader, the Mayor speaks with authority and respect, often backing his words up with data and research. If you watch one of his press conferences, he comes across as a responsible leader.
However, when it comes to taking action, Garcetti leaves a lot to be desired. In fact, his inaction has become quite dangerous and, you could argue, negligent.
Homelessness
Food insecurity
Officer-involved violence
Pedestrian and cyclist accidents
Wild fires
Climate change
These are just some of the issues plaguing Los Angeles on a daily basis. 
Though many of Mayor Garcetti's initiatives seem positive ("vision zero"for no more pedestrian deaths and "a bridge home" for unhoused folks to get off the street), he hasn't managed to make much of a dent in these problems. And while a city like Los Angeles will always face issues as big and diverse as its population, the Mayor's critics often call out that he's more focused on his international profile than on solving problems for his city.
In fact, it was reported so frequently that Mayor was not physically in Los Angeles that Jonny Coleman of NOlympics started tracking it.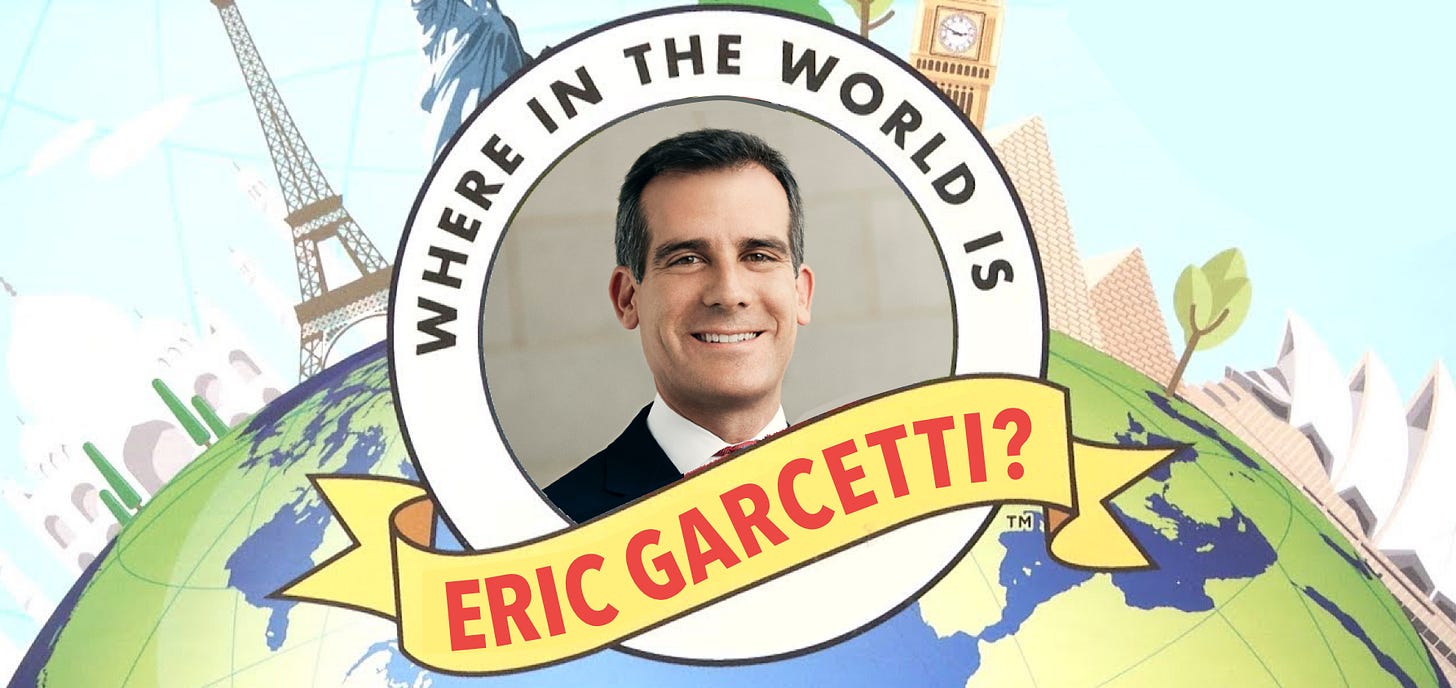 Other critiques of Mayor Garcetti include everything from not acting fast enough to prevent the dramatic rise in homelessness to putting a climate change response on hold to possible involvement in a citywide corruption scandal.
Of course, Mayor Garcetti does have some achievements to show for his time in office. Together with City Council, LA raised minimum wage to $15 an hour. The Expo Line expansion opened during his tenure which connects downtown to Santa Monica by train. The Mayor also helped pass Measure M which allocates significant funding for transportation infrastructure. And in 2015, he established the Mayor's Office of Reentry to better support individuals transitioning out of incarceration. You can read more about what he has done on his website.
So while I think it's unfair to say that Mayor Garcetti has done nothing during this time in office, it is fair to say he could have done so much more. As Pete White of the Los Angeles Community Action Network said recently, "At some point, you're definitely responsible if you don't respond."
He still has time to change his legacy. He's currently serving his second and last term due to limits. In the end, he will have served roughly 9 years in office because of a change in election timing. His term is up in 2022.
Notable Past Mayors
To put Garcetti's administration in context, let's have a look back at some of LA's past mayors. Los Angeles has had 42 Mayors, including Garcetti. Collectively, they have shaped the role of the Mayor's office.
Our first Mayor was a gentleman by the name of Alpheus P. Hodges. He was also LA's first coroner. Not a lot of competition for jobs in those days since Los Angeles had around 2,000 residents. It's hard to find information on Hodges. No one even knows what he looked like. The LA Times published a hilarious piece about how little documentation there is about him, although apparently Mayor Hodges was known to give out free whiskey to his pals.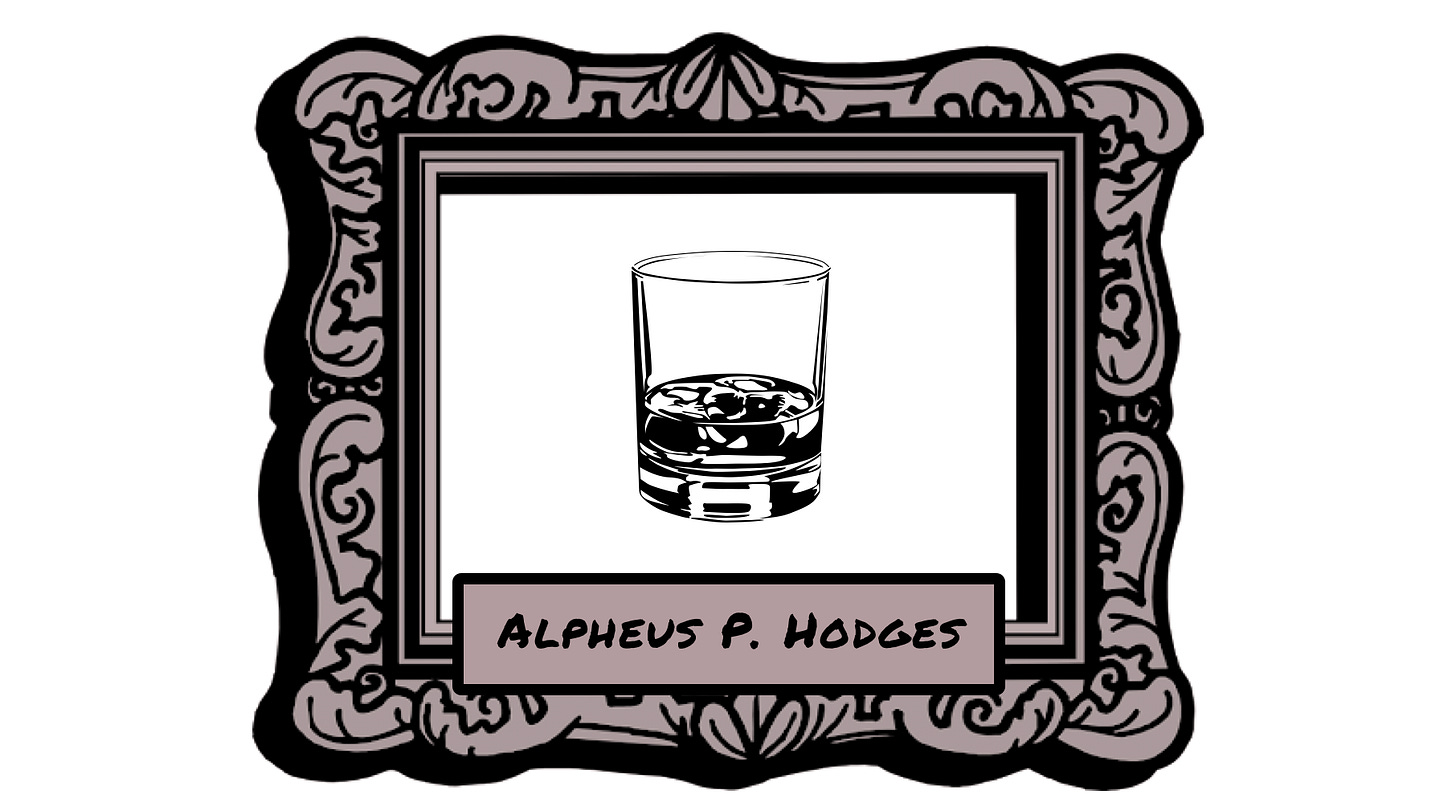 Damien Marchessault was LA's 7th Mayor. He was in office throughout the Civil War. According the Greig Smith's book "If City Hall's Walls Could Talk," before he came Mayor, he was a riverboat gambler and an ice salesman. According to Smith, it sounds like Marchessault was a well-respected Mayor. That changed a bit when he started getting involved in the water department where rumors of incompetence and corruption haunted him. He ended up shooting himself in the City Council Chambers. 
Tom Bradley, who you may know as the namesake of the international terminal at LAX, was our longest serving Mayor. He was in office for 20 years (or 5 terms). Mayors can only serve two terms now. He was also LA's first and only black Mayor so far. On entering office, he prioritized small business recovery in the wake of the Watts uprising as well as making LA a center for international business. He's famous for bringing the 1984 Olympics to LA as well as expanding LAX Airport. He was a champion for the Metro rail system, which began operation during his last term in office. Bradley oversaw a lot of turmoil and a lot of growth in Los Angeles.
Before Richard Riordan took office in 1993, he was known for influencing LA politics with his wallet. He used his millions to self-fund his "outsider" run for Mayor. While in office, he set his sights on amending the Los Angeles City Charter, successfully cementing those changes in 2000. These included adding more power for the Mayor, specifically freeing the role from some of its reliance on City Council. Also included was the creation of the Neighborhood Council system, which are supposed to empower neighborhoods to have more voice in the direction of the city. Now that he's retired, he's gone back to his rich person activities of running Brentwood bookclubs and owning restaurants.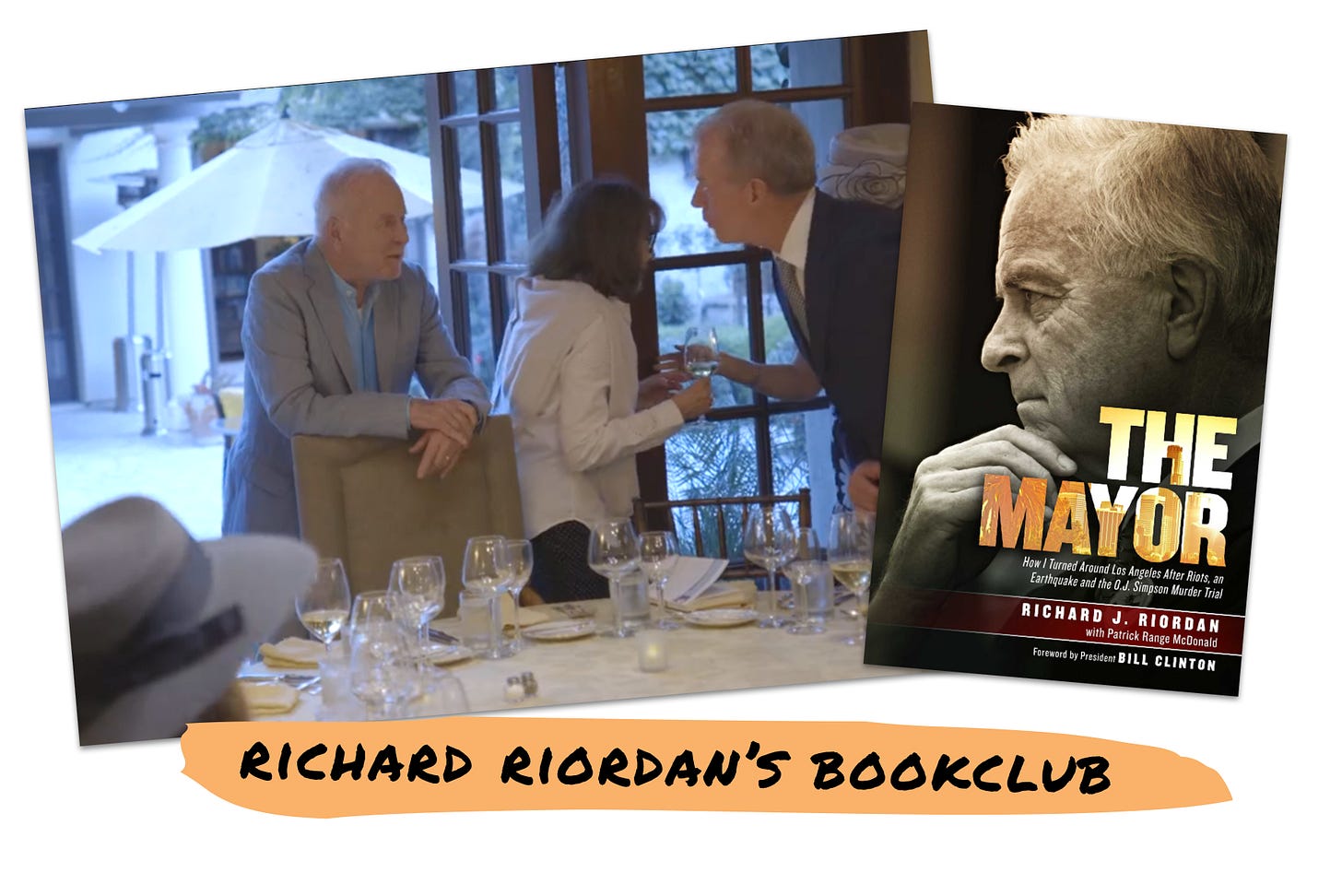 Antonio Villaraigosa was Garcetti's predecessor, serving two terms in the Mayor's office. He was LA's first Mexican-American Mayor since the early days. Villaraigosa has been a mainstay of California politics since the 90s, serving in the California State Assembly and the LA City Council and most recently, running for Governor. One of his major accomplishments as Mayor was hiring the most cops ever in the name of cracking down on crime. Under his direction, LAPD staffed up to around 10,000 officers. We still have around that many today. He also focused on education, trying to gain control of LAUSD under the Mayor's Office. While he didn't successfully do that, he did help launch something called the Partnership for Los Angeles Schools which helps to turn around schools with high drop out rates.
Who does the Mayor represent
You may be thinking duh, the Mayor represents LA. But you'd be surprised how many people think Mayor Garcetti is their mayor when actually they live in West Hollywood (meet Mayor John D'Amico) or Burbank (meet Mayor Sharon Springer). 
The Mayor of LA oversees the city of Los Angeles. He represents and is responsible for residents of the city. You can find out if he's your Mayor by searching your address in the Neighborhood Info finder.
How is the Mayor elected
The Mayor of Los Angeles is elected by voters who reside in the city of Los Angeles. Like many of our local elections, if any candidate receives over 50% of the votes in the primary, they win outright. Otherwise, the top two candidates go to a general runoff.
As of 2017, Mayoral elections are now held in even-numbered years to coincide with the gubernatorial elections. The next election will be in 2022.
Part of the reason for the change was that voter turnout was continually low for local elections. Garcetti won his second term with a total of 331,310 out of 407,147 votes. At the time, there were about 2 million registered voters in the city.

How you can get involved
We can stay aware of what Garcetti is doing now as well as keep our eyes open for candidates coming on the scene for 2022.
To keep up with Mayor Garcetti
Sign up for his newsletter
There's a lot of useful information in these but I suggest pairing them with trusted news sources for the real story. Subscribe on his website.

Watch his public statements
He's been giving daily briefings during the COVID-19 crisis and he recently gave the 2020 State of the City address.
Read the news and look out for his name
I made you a Twitter list of publications and journalists I trust.
Contact his office and share your concerns
Each part of the city has an area representative. You can find your Mayor's Office representative on this map. 
To learn about upcoming Mayoral candidates
Check your sample ballot
During election season, you can find all the names on your ballot and research them. We'll cover how to do this closer to the next election.
Attend candidate forums
The League of Women Voters of LA often holds candidate forums for major races.
---
The Mayor's office holds a lot of opportunity for the right person. It's hard to imagine something that can't be accomplished with this amount of power, influence and money. 
While a lot of Angelenos know the Mayor exists, it is clear from past elections that they don't understand how much impact this role can have for them personally. Hopefully, a global pandemic where he ordered our city to be shut down has brought this into focus. Hopefully, it sets the stage for a more competitive mayoral race in 2022. And hopefully, it brings out a record number of voters to ensure power falls into the right hands.
Here's to a future for Los Angeles that represents Los Angeles.
Always paying attention
- Lex