How to Decide Which Way to Vote
Strategies for making decisions on issues or people you know nothing about. Also, ballot research tools and voter guides for Nov 3!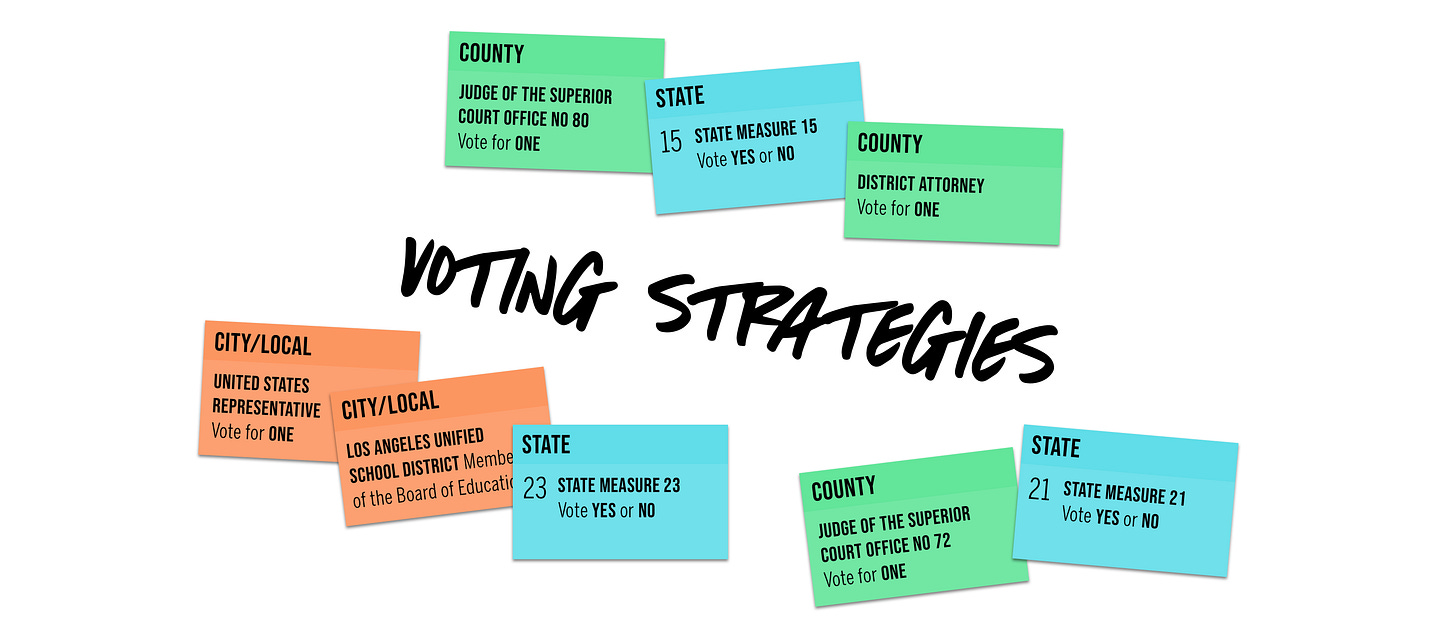 It seems like everyone under the sun has an opinion on how you should vote. Voter guides are coming out left and right, endorsements are plastered all over Instagram and mailboxes are being inundated with mailers from anyone with the cash.
It can leave you despondent. You might find yourself asking "Does it really even matter?"
In this issue, I share some of my strategies for deciding how to vote, especially on those races and measures you might have no clue about.
Before we dive in, I also want to let you know that part of why this newsletter hasn't come out in a while is that I've been working on a couple election-related collaborations. One of them focuses on what the District Attorney does and why that race is such a big deal. The other is a reference guide for what each of these layers in government does. I'm looking forward to sharing these resources soon and more as we build up to this dramatic, hopeful and terrifying election.

---
Strategies for Making Up Your Mind
Most of us aren't able to keep our ear to the ground about what all these politicians do every day. This leaves us in a strange place during election season when we are asked to make decisions about a lot of things we don't fully understand.
In the past, I've leaned towards re-electing incumbents and weighing their endorsements heavily. Watching Nithya Raman try to beat an incumbent for City Council has changed that. Between the incumbent endorsement stronghold and corporate campaign financing, it's almost impossible to beat someone already in office even if you are more qualified for the job. This is what makes change in our government so soul-crushingly slow. 
I don't know about you, but I personally want change to come faster so here are my strategies for figuring out how to vote…

Prioritize the races and measures
Look into what's on your ballot and make a list from top priority down. I prioritize the most local races as those get the least amount of attention. Local legislators often rise up the ranks so good to look into them early. For ballot measures, there are TONS of guides to help you scan for issues you are most interested in. I'm including some later in this issue.

Don't trust endorsements from other elected officials
Incumbents endorse incumbents. It may seem odd or alarmist like "oh, that can't be true." But if you look carefully, politicians will generally endorse each other. It definitely gets interesting when they don't though. This election Mayor Garcetti is backing George Gascon for DA. But for the most part, I no longer give these endorsements much weight.

Read thoughts from people who know the subject
What I have found to be most illuminating is looking at what issue-based organizations or activists have to say in the areas where they are most knowledgeable. When looking at criminal system reform, I want to hear what advocates like Eunisses Hernandez has to say. I want to read voter guides from the DA Justice Coalition and the Public Defenders Union. For housing, I look to housing activists and coalitions like Ktown for All and Services Not Sweeps. Even if you aren't sure who to look to for this expertise, as you're looking at voter guides, consider what the writer(s) know about their subject or what angle they might be coming from. 

Look at the incumbent's voting history
You can look up how politicians vote on the issues you care about! I highly recommend doing this. It's very quick with state and federal legislators and it's a bit harder for local races. I'm including some links below and if you get stuck, try googling for news articles using the issue name and the candidate name. For example, "Councilmember Bonin" + "transportation."

Look at campaign financing
This can be quite a ball of wax but a few websites make this easy and it's good to verify with a couple google searches too. The major funders of campaigns, especially corporate ones, tend to control a lot of legislation once that person is in office. If this sounds daunting, Voter's Edge shows a few top funders on their candidate pages.

Leave it blank if you really have no idea
If you find yourself at the vote center at a loss for what to do, it's ok to leave a box blank. Hopefully, you've prioritized your races and you are not leaving a major race or ballot measure blank but even so, if you do not have time to look at anything on that race or issue, I think it's fine to skip it. 
Resources for Voting Records and Campaign Finance
What Do All These People Do
To help you prioritize your ballot decisions, here's a quick reference on what these people do:
🌇 City Council passes and amends laws on anything that takes place in the city from the roads to the sky. They also oversee the city budget including our biggest line item: LAPD.
🏞️ County Supervisors do the same thing as City Council but at the County level. They pass laws, appoint people to key positions and oversee the budget. Notably, they oversee the budget for the DA and the Sheriff.
🚓 District Attorney is the head prosecutor for the County. They work closely with law enforcement to decide who to prosecute for what crimes and what their punishment should be.
📚 LAUSD Board of Education oversees public schools, including the school budget, teacher contracts, educational priorities and school conditions.
🎓 Community College Board of Trustees oversee Community Colleges. They create policies on how they should operate, establish academic standards and set the budget.
🐻 California State Senate and California State Assembly pass laws that govern the state of California and oversee our state budget. Everything from climate change to housing to the arts. 
A Treasure Trove of Voting Guides
I have collected some of my favorite voting guides on one page. Important to acknowledge that I am a person with my own values and biases and these voting guides may not align with what matters to you. 
See my full list of resources and guides at lexroman.com/voterguides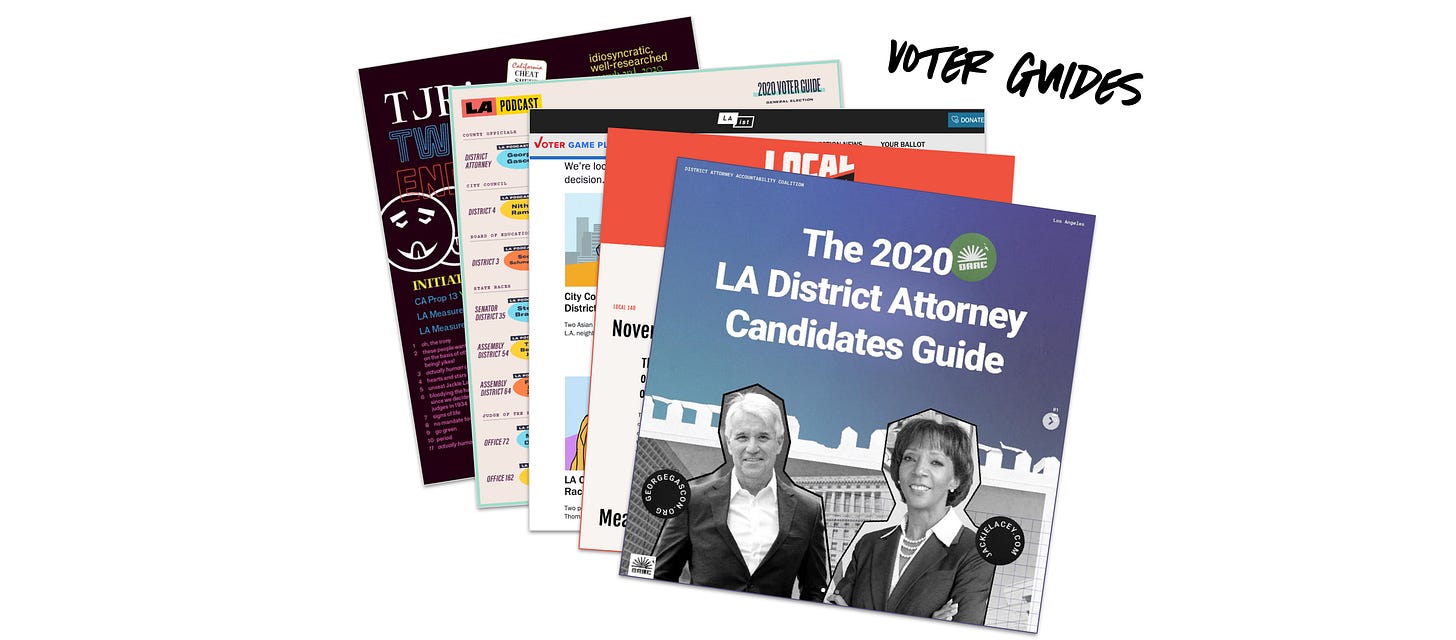 Some of my favorite research tools include:
Some of my favorite voting guides include:
---
All of us have that thing that gets our blood boiling. An issue or an experience that makes us angry or scared or motivated. No matter what that thing is for you, it's likely we're voting on some aspect of it this election.
Change is slow. Change is partially slow when not enough people are paying attention. It's easy to look the other way when something doesn't affect your life. And it's easy to feel helpless when so many things are wrong. It's also easy to elect someone who is actually harmful to what you care about because they seem like they're doing an ok job.
No matter how much you dig into your ballot, I hope you keep your eyes on what's going on around us and take every opportunity you can to move us forward into a better future. 
Always paying attention
- Lex