Discover more from LA Pays Attention (Archive)
Lessons in government and how to participate in it. An email newsletter for the citizens of Los Angeles. This is the archive. LA Pays Attention has moved to lapaysattention.com
Over 1,000 subscribers
How to participate in your government
A four-part series on public comment, emails, phone calls, meetings and making sure your elected representatives hear you
People say one person can't make a difference. I have never believed them.
I have seen a handful of people drive a lot of change. I've seen journalists cover public comment sessions in the news. I have seen politicians respond to pressure from community leaders with new legislation.
But, many days, it seems like elected officials are actively trying to shut us out of their work. And, when they do change course, it's hard to know what caused them to "listen" to us.

Public participation in Los Angeles is both inaccessible and inequitable. Public meetings take place during the day and, during non-pandemic times, you had to be physically present at a meeting. These meetings can last for many hours. Most people can't dedicate their day to being at an 11 hour LAUSD meeting. Even if you simply want to write or call your representatives, it's certainly a lot easier for those of us who speak, read and write English. And it's also only possible for those of us with phones, computers and internet. Our current public processes make it difficult for a lot of LA residents to have their voices heard.
As we've established in past issues, a handful of elected officials represent millions of people. Our city has a lot to manage day to day. Sorting out how to hear from the public is just not on their list of priorities. We have to change that. We have to share our vision for how to change that.
Until we do, elected leaders are (sort of) listening, especially when they get sued or when they think they might lose an election. In this four part series, we'll look at a few of the ways you can raise your voice and be heard by your government.
How to Find Your Representatives
Local Reps
There are 88 cities in the LA area. If I didn't list your city, google your city name + "city council" to find your local government. If you don't live in a city or aren't sure if you do, you can always reach out to your LA County Supervisor.
State Reps
Federal Reps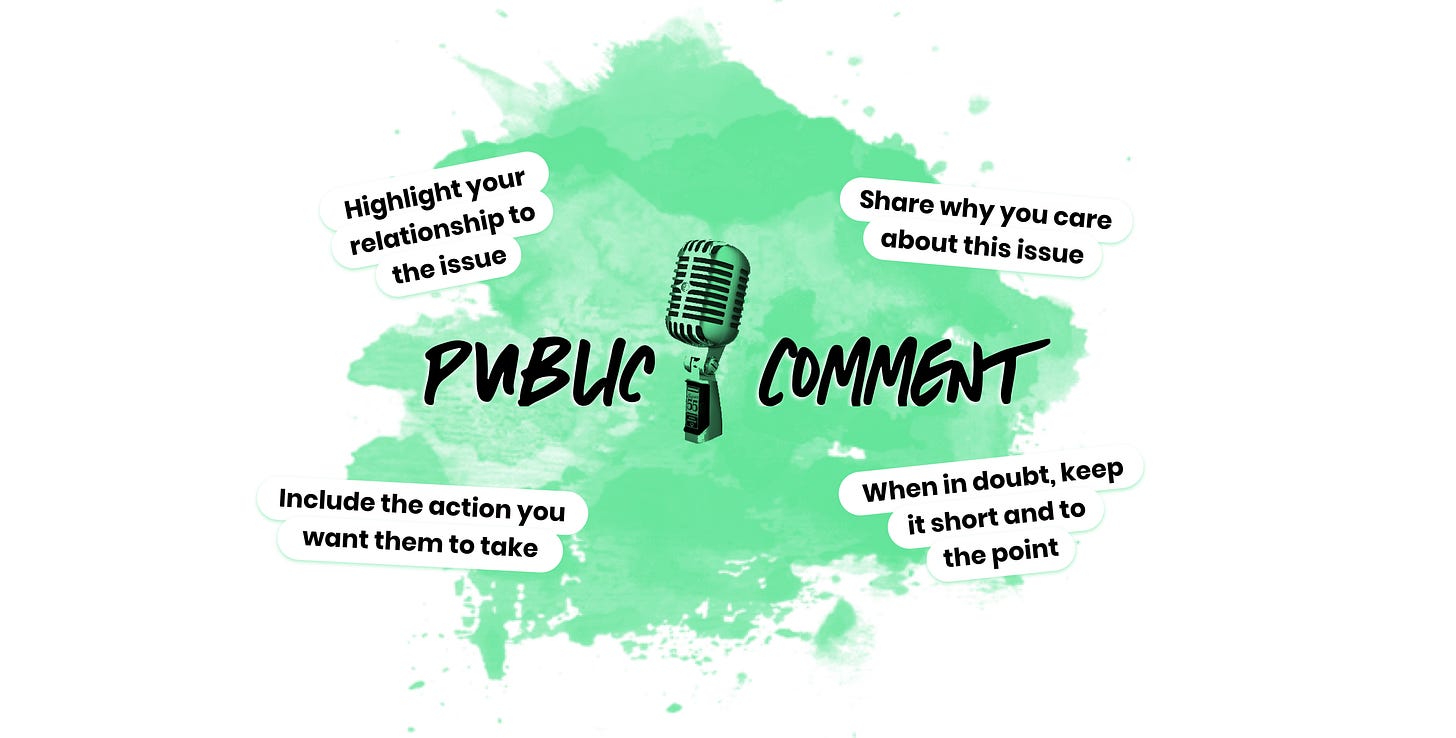 Public Comment
Public comment is one of the most effective and direct ways to speak to elected leaders. You can speak live at a meeting or you can send comments in writing before a meeting. 
🤔 When To Choose This Method
When you are really passionate or angry about something

When you just realized elected officials are voting on something today

When you see a call to action from an organization you support
🔦 How You Do It
Look out for calls to action
Many local advocacy groups will post when public comment is happening for important issues (like this post from Ktown for All or this one from Youth Justice Coalition). See this list of organizations I follow.

You can also look up meeting schedules and agendas. See the resources below.

Look at the agenda for public comment instructions, usually at the top. See this example agenda.

Look for any relevant agenda items
You can do a "find on page" search for keywords in the agenda which will help you know what to speak on. If you can't find what you're looking for, it's probable that other commenters will give you a clue about relevant agenda items once the meeting starts.

At most meetings, you can also give a general public comment on any topic within the purview of those leaders even when it's not on the agenda.

Call in or attend the meeting

You may have to fill out a speaker card
List whether you want to speak on any agenda items and/or give a general comment.

Bring your talking points
Make sure you have a clear idea of what action you'd like them to take. More on that below.
⚡ How to Make it Impactful
Speak at the meeting (when possible)
Speaking during meetings seems to be much more effective than sending comments in writing. It shows you care enough to take time out of your day and also, you get the satisfaction of knowing they actually heard your voice. When you send comments in writing, you never know if they read them. (Note: this is one way in which public participation is broken as it caters to folks who actually can take off time to go to a meeting)
Highlight your relationship to the issue
Politicians care the most about voters in their district and folks with influence. To be sure your comment lands, highlight anything that might have sway including:
That you live in the district

That you own a business in the district

That your kids go to school in the district or that you attend a faith community in the district

That you're an expert in the field (for example, a doctor speaking on COVID-19)

Organizations you represent (be sure to get their permission for this)
Share why you care about this issue
Speak from the heart. Speak from experience. Speak from knowledge. Tell a story of how this issue has impacted you. Bring data. Read a poem. Sing a song. 
Your comment matters regardless of how personal or creative you make it, but a little entertainment can help shock people out of their listening fatigue.

Include the action you want them to take
This is the most important part. Be clear about what you want them to do. Something like "Vote no on XYZ." 
When in doubt, keep it short and to the point
The fact that you took the time to comment has impact, especially when you do it as part of a group effort to get heard. Politicians take notice when they receive a deluge of public comments. The pure volume of comments matters because it indicates to a politician that they may lose voter support. This is why advocates often send you pleas to call and write your representatives. If you don't know much on the subject but you'd like to participate, just say something simple. One or two lines can be enough. 
"I'm a resident of your district and I also own a business downtown. I want you to vote yes on this motion to close Men's Central Jail."
📖 Resources
---
Next in this series, we'll look at how to email and call representatives.

Have a public comment you think should be seen or heard? Have advice for people on how to talk to their government? Send it all my way: lex@lapaysattention.com
Always paying attention
- Lex