How to supervise the County Supervisors
Part one in a two part series on the LA County Board of Supervisors
The County Supervisors have their hands in a lot of pies but their jobs remain a mystery to many Angelenos. Their role is coming into focus during the COVID-19 crisis as counties have been put in charge of several aspects of the state and federal response. LA County is handling everything from setting up COVID-19 testing sites to leasing hotel rooms for our most vulnerable neighbors. Our County Supervisors sit at the intersection of all of it and that's barely even scratching the surface of what they do.
When the city lets us down, we can sometimes go over to the county to get something done. It's a bit like playing your parents against each other to get what you want.
Let me explain.
LA County and LA City
I want to begin by highlighting the distinction between LA County and LA City.
In a few cities across the United States, the city and the county are the same governmental body. When this happens, it's called a consolidated city-county and as that name suggests, it means their government is consolidated. For example, San Francisco is a consolidated city-county. The bounds of the county and the bounds of the city are the exact same. San Francisco does not have a city council—only a set of County Supervisors and a Mayor. Other cities using this model include Denver and Honolulu.
But in most parts of the United States, city and county jurisdictions are different. While the County of Los Angeles and the City of Los Angeles have the same name, they do not have the same boundaries. 
Here's a map of the City of Los Angeles:
Here's a map of the County of Los Angeles: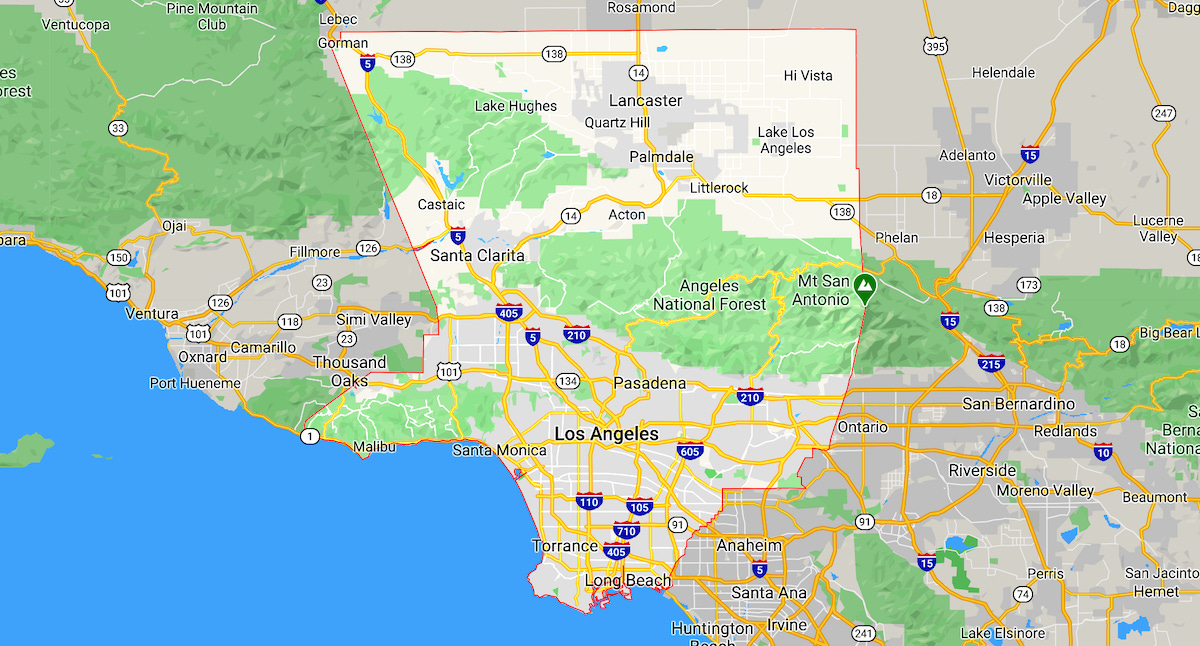 Here's a map where I tried to paste the city over the county so show you the scale of this crazy beast: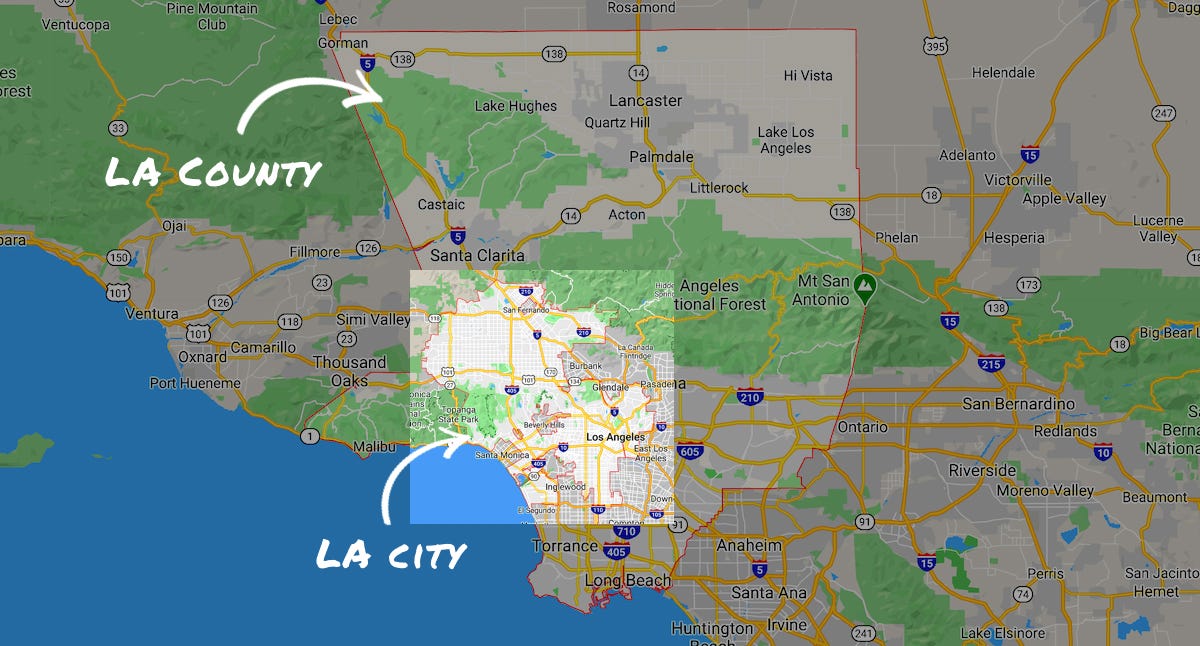 Long Beach, Santa Monica, Culver City, Santa Clarita, Palmdale and Pasadena are all within Los Angeles County. None of them are Los Angeles City. They are all their own cities. LA County includes 88 cities (including Los Angeles, the city). 
Strangely, the County's official song is titled "Seventy-Six Cities." 
To add to the confusion, there are also areas of the county that are unincorporated which means they don't have a city governing them. For example, Catalina Island is part of LA County. Avalon is its own city but Two Harbors and the whole rest of the island is unincorporated LA County. Living in an unincorporated area means you rely on the county for services you might otherwise get from a city, like the fire department or trash collection. I was surprised to learn over 65% of the land in Los Angeles County is unincorporated.
LA County has the largest population of any county in the nation with 10 million residents. Its population is greater than most states. And it's expansive, clocking in at 4,084 square miles.
So when a friend comes in from out of town and calls to say "hey, I'm in LA!" you can decide whether or not you want to school them on the difference between the city and the county.
What is the LA County Board of Supervisors
Los Angeles County is governed by a five member Board of Supervisors. The County Supervisors write and pass laws for all of LA County. They oversee important departments like the Sheriff, Mental Health, Public Health and the Medical Examiner-Coroner. And they decide where a lot of our taxpayer dollars are spent. They currently manage a budget of around $36 Billion. For comparison, LA city's budget for this fiscal year is $10.7 Billion.
Our current Supervisors are Hilda Solis, Mark Ridley-Thomas, Sheila Kuehl, Janice Hahn and Kathryn Barger. We'll dive into their backgrounds and how they are elected in the next issue.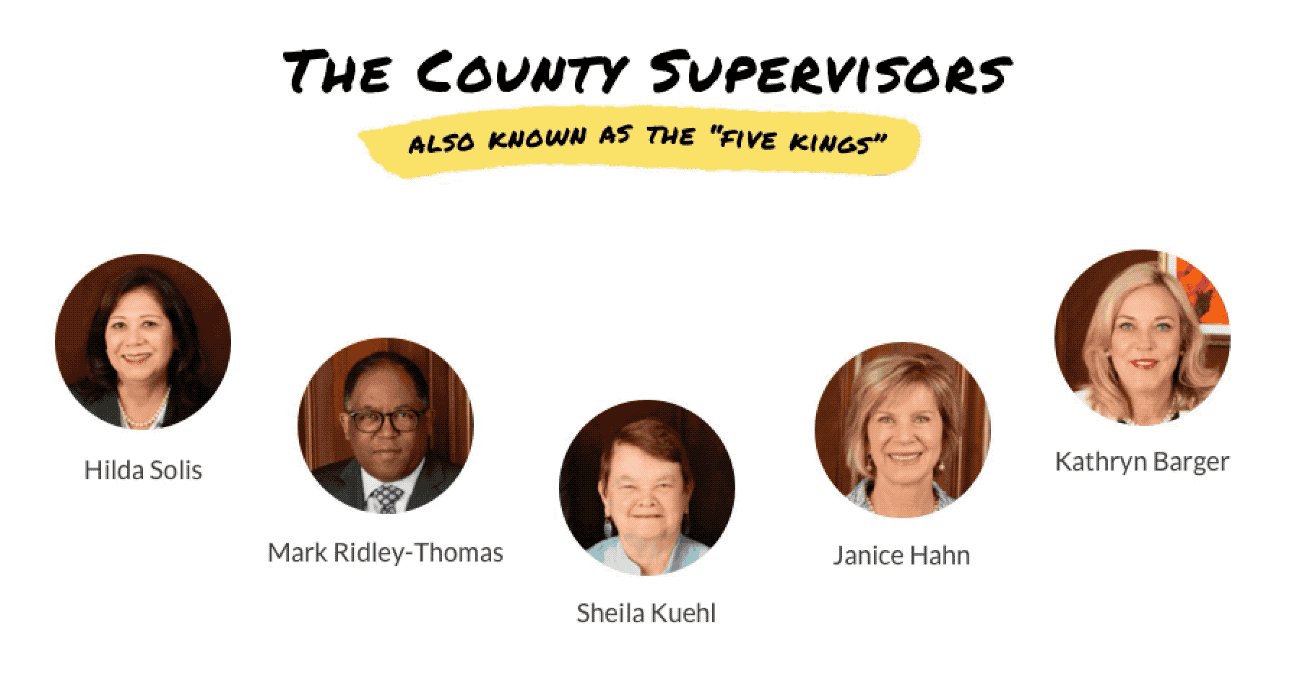 The County Supervisors are unofficially known as the "five kings" because they have a lot of power with little oversight. And as one of our state Senators once said, "they are invisible to their subjects."
You might be surprised to learn that LA County also has a CEO. I know I was! 
Actually, as of March 31, we have a new Acting CEO because our current CEO is retiring. Her role sounds a lot like the Mayor's: overseeing strategy, goals and budgets. In recent years, power has shifted a bit back and forth between the Supervisors and the CEO. In 2015, the retiring CEO sent a recommendation to the Supervisors that the CEO's role focus mainly on strategic functions rather than dealing with more operational matters. The Supervisors handle those instead.
The CEO is not an elected position but is an appointment by the Board of Supervisors. They are currently interviewing candidates for the next one. And you might consider applying because the job pays astonishingly well. The last LA County CEO made around $488k a year!
What the County Supervisors do
Back to the Supervisors. The County Supervisors make laws that govern the county. They also preside over most county services.
What's a county service you ask? Here are a few important ones:
🎓Office of Education, which supports LA County's 80 school districts (including LAUSD). The county school Superintendent and Board of Education are appointed by our County Supervisors.

🚨Sheriff's Department, which is the law enforcement agency for the county. The Sheriff's turf includes all unincorporated parts of the county. This department also manages our county jail system. They also have law enforcement contracts with Metro and community colleges. The Sheriff is an elected position but the Supervisors have a lot of say in how the department is run.

⚖️Public Defender's Office, which provides criminal defense services to people who cannot afford their own lawyers. The head Public Defender is appointed by the Supervisors. And in 1993, the Board of Supervisors voted to set up an Alternate Public Defender's office to offer backup legal services when the Public Defender has a conflict of interest. It's maybe less weird than it sounds.

🧠Department of Mental Health, which offers community mental health support including homeless outreach teams, psychiatric emergency response, school threat assessment and suicide prevention. The County Supervisors approve the budget for DMH and shape the role of the department.

🧼Department of Public Health, which operates some medical centers, monitors disease spread and prevention, handles food safety practices and substance abuse recovery programs. The Director of Public Health is appointed by the Supervisors and they also established a public health task force which reports to them. Lately, we've been hearing a lot about the director of this department: Dr. Barbara Ferrer. She's been leading the charge on health recommendations for all Angelenos and handling local monitoring of COVID-19.

💵Department of Public Social Services, which is responsible for administering public programs like food assistance, health benefits and general relief. The Supervisors appoint the head of this department and some members of its commission.

🍼Department of Children and Family Services, which is tasked with the safety and well-being of children. Also known as "child protective services," DCFS is called in to support children in unsafe situations. As a result, this department oversees our foster care system. The director of DCFS is also appointed by our Supervisors.
Homelessness is also a big focus for the County Board of Supervisors. Their work on the issue spans these different departments but you can see some of their current budget priorities in this surprisingly easy to read summary!
What's their relationship to cities?
It depends on the city. In recent years, our local governments have been trying to collaborate and coordinate more efficiently. One example of this is Measure H and Measure HHH which were both approved by voters in 2016-2017. Measure HHH allocated funding to LA city to build permanent supportive housing for people transitioning out of homelessness. Measure H allocated funding to the County for the services that make housing supportive. Put simply—the city handles the housing and the county handles the services.
Both governments made a big fuss of their landmark collaboration on these measures so that gives you a sense of how inefficient things were before. Let's hope they start working together better in the future. The stakes are getting higher every day.
---
In the next issue, we'll look closer at the current County Supervisors and how they are elected. Their kingdom is vast but as more voters become aware of their power, we can help ensure they are kept in check.
What's that you say? You are just dying to know what they're up to right now?
Well, you're in luck, dear readers! They have a meeting set for next Tuesday, April 14. You can watch it at home and you can even send them your thoughts ahead of time. Email your public comment to executiveoffice@bos.lacounty.gov. (It also says you can mail them a letter so my public comment is about how exactly they are checking all that mail.)
Always paying attention
- Lex
Special thanks to
Gina Hermosillo
and
Mary Kenny
who gave notes on this issue
---
Corrections
From Issue 1: Thanks to Shannon Prior who let me know that both the County and the City operate animal control departments and shelters. Find the City Department here and the County Department here.