Meet Your County Supervisors
Part two in a two part series on the LA County Board of Supervisors
We continue our series by looking at the individual County Supervisors. What a fascinating bunch of people and gosh, they seem to have a good time! Just wait until you see the photos of Kathryn Barger with adoptable kittens.
Before we dive into it, I want to highlight a few things the Supervisors voted on during today's board meeting:
For renters, they began the creation of a rental assistance fund to help people pay their rent (up to $1000 per month). They also added some additional eviction protections for people who live in mobile homes and for people who have "unauthorized" guests in their home (like maybe a friend or a significant other who is not on the lease). These may seem random but the Supervisors are trying to close important loopholes in the current limits on evictions. 

For small businesses, the Supervisors established a COVID-19 Relief Fund to offer cash grants and loans. There are now a few assistance programs through the state and the federal government, but the county fund is available to ensure business owners can get relief no matter their immigration status. Stay tuned for more info on their website.

For the homeless population, the county has already been part of the statewide Project Roomkey initiative to offer hotel rooms to folks living on the streets. Today, they moved a plan forward to keep those folks housed by offering them options after the pandemic.
Sometimes, I wonder if the county can be more effective because it has a small set of leaders. Other times, I can't comprehend how ONE person could possibly represent TWO MILLION people.
Let's review our current Supervisors and you can decide if you believe they can truly represent LA County.
Who are the County Supervisors
As we covered in the last issue, we have five County Supervisors. Most of them are career politicians with substantial resumes. I'm going to give you the children's story time version of their backgrounds to keep it simple but you should know that the County Supervisors certainly drum up their share of controversy. Kathryn Barger was reported to fly a helicopter around the county to meetings. Mark Ridley-Thomas was once caught getting his county-issued car washed twice a week during a drought. In all seriousness though, it's definitely worth looking out for their names in the news to learn more about their actions. They hold a lot of power and manage a lot of money.
Hilda Solis represents the first district (from Silver Lake out to Pomona)
Solis is an experienced politician who is midway through her second term in office. She was previously the US Secretary of Labor under President Obama and before that, she was a member of the US House of Representatives. She also served in the California State Senate and in the State Assembly. She's held public office since she was 35.
During her political career, she's been known to focus on environmental and labor issues. Most notably in Los Angeles, she has advocated for transparency and action around toxic lead emissions. Solis is also a union and organized labor supporter. Both of her parents were union members.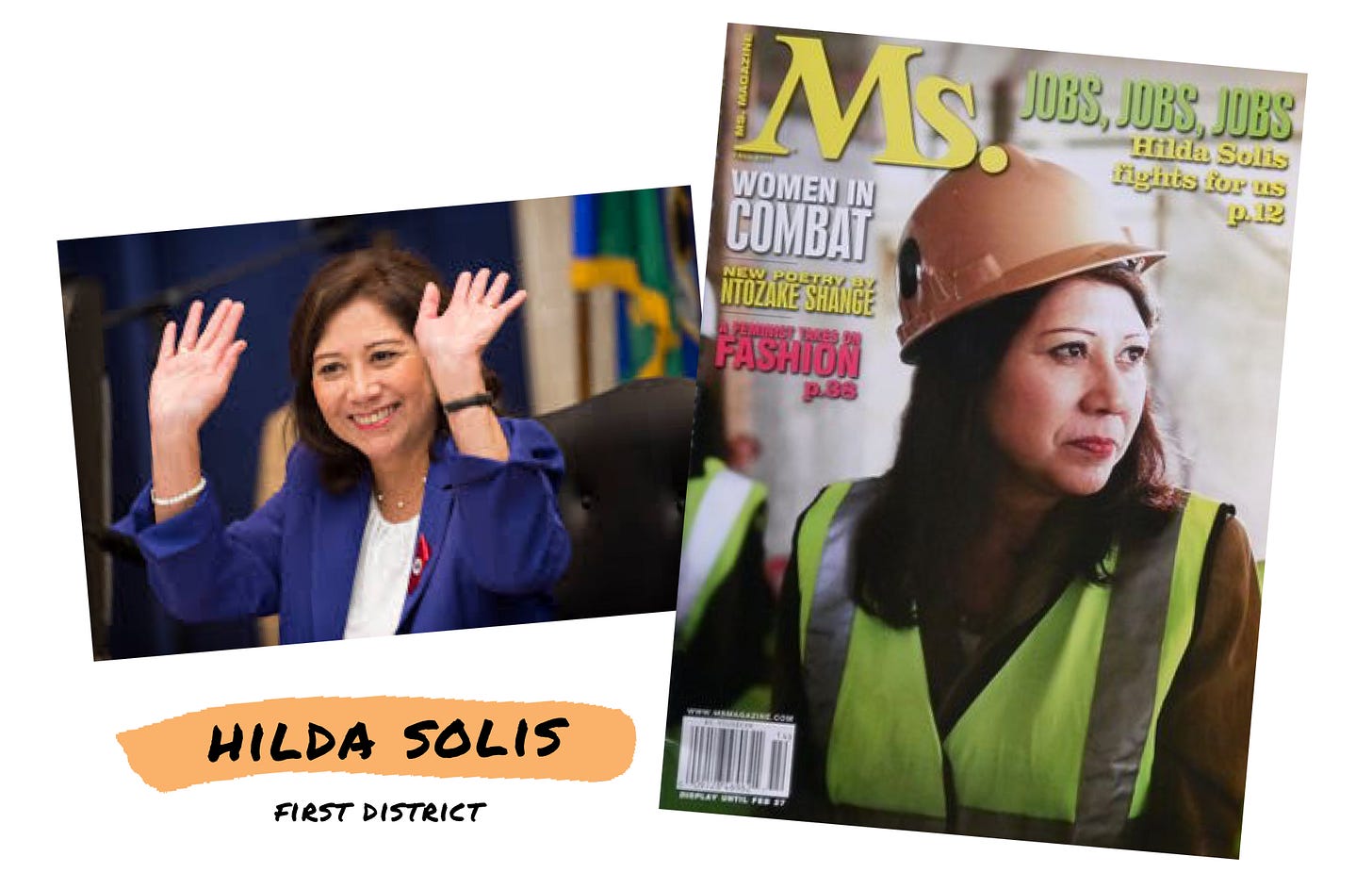 Mark Ridley-Thomas represents the second district (from Mar Vista down to Carson)
Ridley-Thomas (or MRT as he is affectionately known) is a mainstay in the LA political scene. He's serving his third and final term with the Board of Supervisors. In the past, he served in the State Assembly and the State Senate but with his term now up with the county, he has decided to run for City Council again. He was already on City Council from 1991 to 2002. Take that, term limits! 
As far as legislation goes, one of his key issues is criminal justice reform. Along with fellow Supervisor, Sheila Kuehl, he established a working group to examine alternatives to incarceration and introduce trauma-informed practices. He is not always as progressive though. MRT recently voted to support overturning a ruling that protects the rights of people forced to sleep on the street.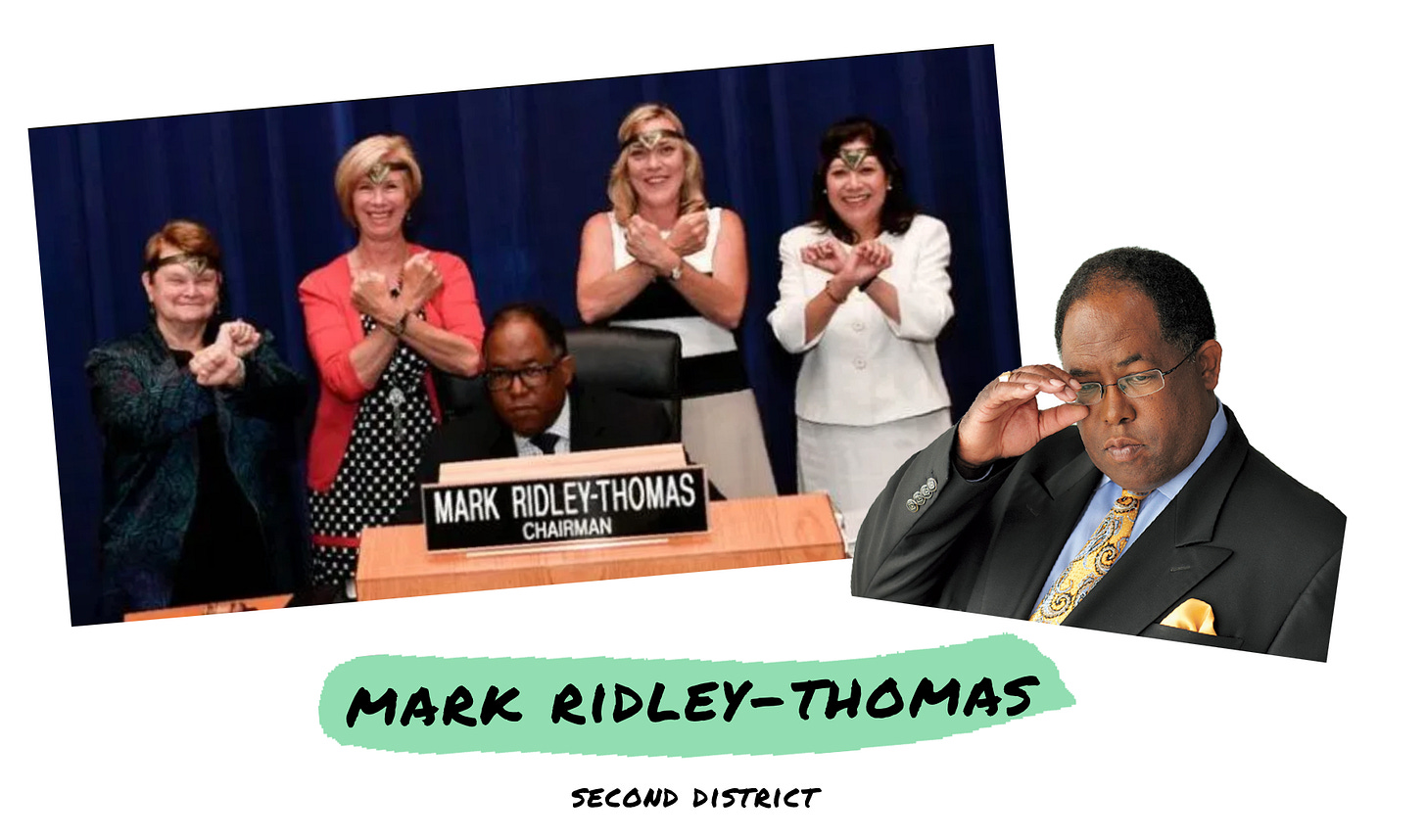 Sheila Kuehl represents the third district (from Malibu across to Hollywood and up through the Valley)
Kuehl made that classic California transition from actor to politician. She was a child actor for both radio and television for many years. After quitting acting, she went to Harvard Law eventually becoming a practicing lawyer and law professor. Like most of her colleagues on the board, she also served in the California State Senate and State Assembly. 
One of her notable accomplishments in the state legislature was helping to found the California Legislative LGBTQ Caucus to advance the rights of LGBTQ Californians. Here in LA, she's been one of the most vocal critics of the Sheriff's Department and a proponent of more oversight. She's currently serving her second term with the county.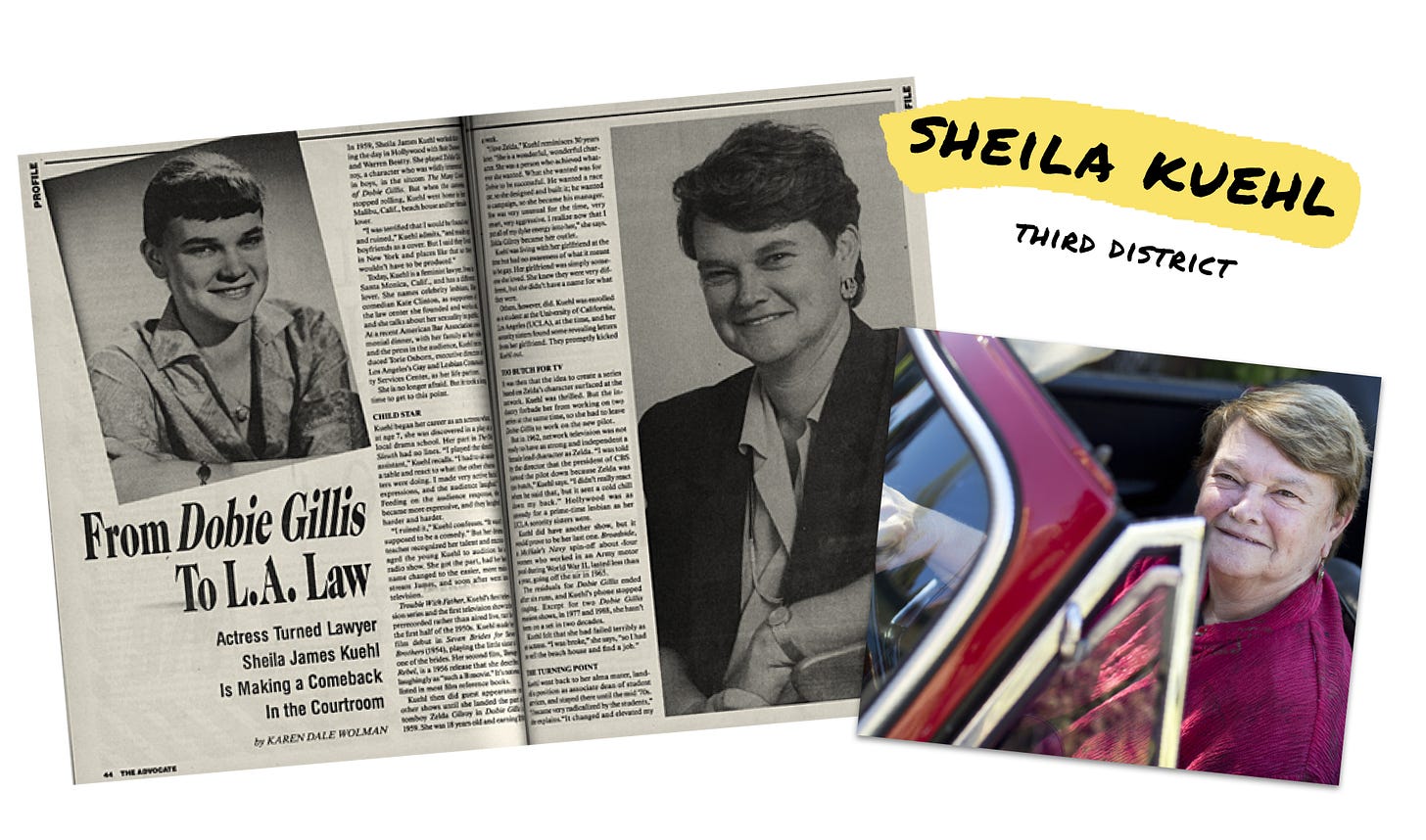 Janice Hahn represents the fourth district (from Marina del Rey down to San Pedro and out to Diamond Bar)
Hahn has quite the family legacy in politics. Her father, Kenneth Hahn, served as a County Supervisor for 40 years! This was before term limits. The building where County Supervisors conduct their work is even named after him. Her brother is a former LA City Mayor, former LA City Attorney and former LA City Controller. He's now a judge. 
Not to be outdone by her relatives, Janice Hahn's resume includes 10 years on the LA City Council as well as 5 years in the US House of Representatives. Her accomplishments with the county include establishing a program to aid caregivers of people with dementia, Alzheimer's or autism. And, like her colleagues Kuehl and Ridley-Thomas, she's trying to shift the criminal justice system away from punitive tactics and towards restorative ones. 
She was re-elected last month and will serve another four years.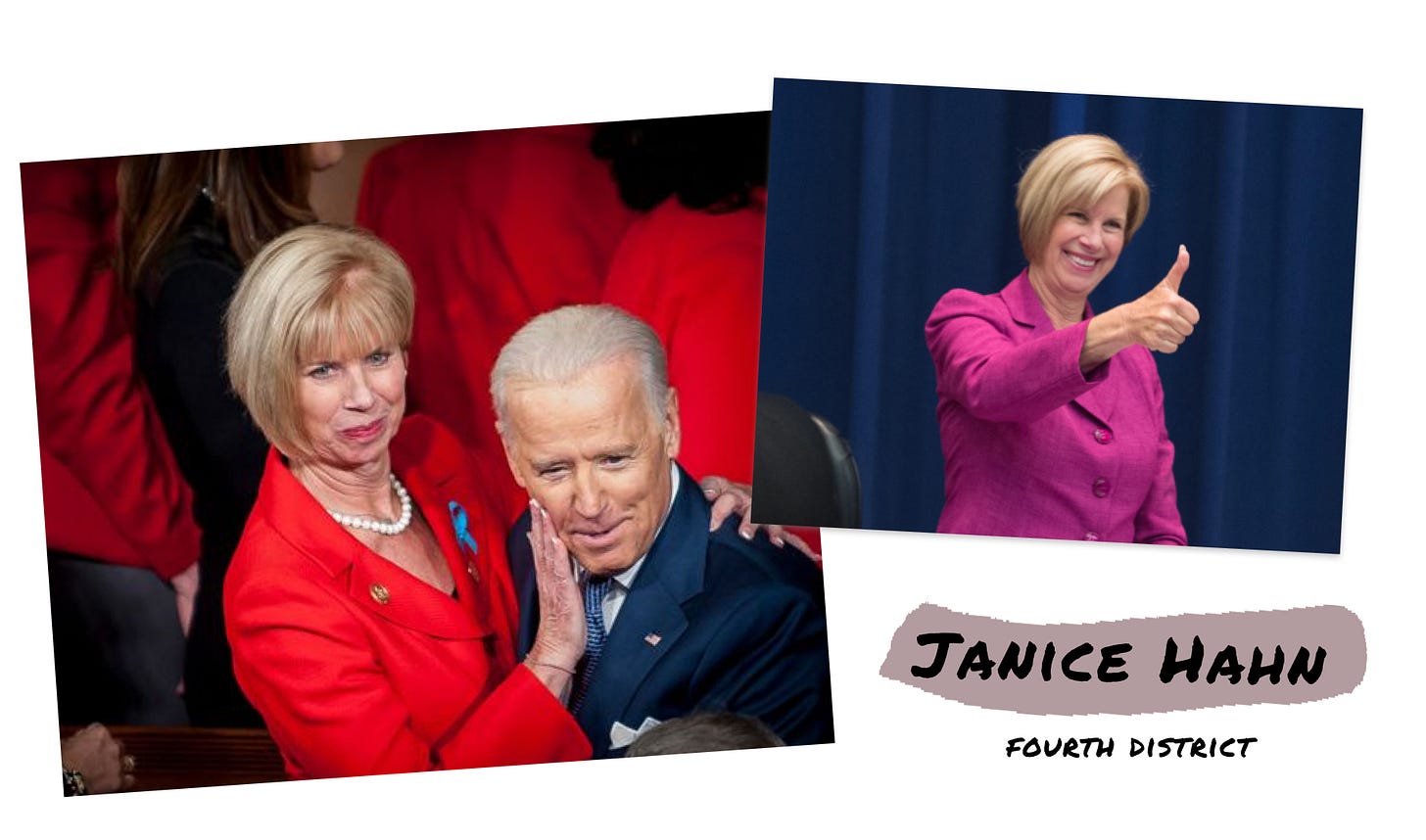 Kathryn Barger represents the fifth district (from Burbank out to Pasadena and up to Lancaster)
Barger is the only Republican on the board at this time though she is often called a moderate. She often highlights her fiscal responsibility and votes in accordance with that. For example, she opposed waiving the $50 fee for people who can't afford their own lawyer to register for a public defender. 
To her credit, she's also made some positive changes around homelessness, veterans and mental health. She and Ridley-Thomas worked to get more mental health staff hired for the county to specifically support veterans. She's also advocated for more innovative housing construction methods to address our housing shortage.
Barger also recently won her re-election. She is the current Chair of the Board, a position that rotates every year. This role means she runs the Supervisors' meetings.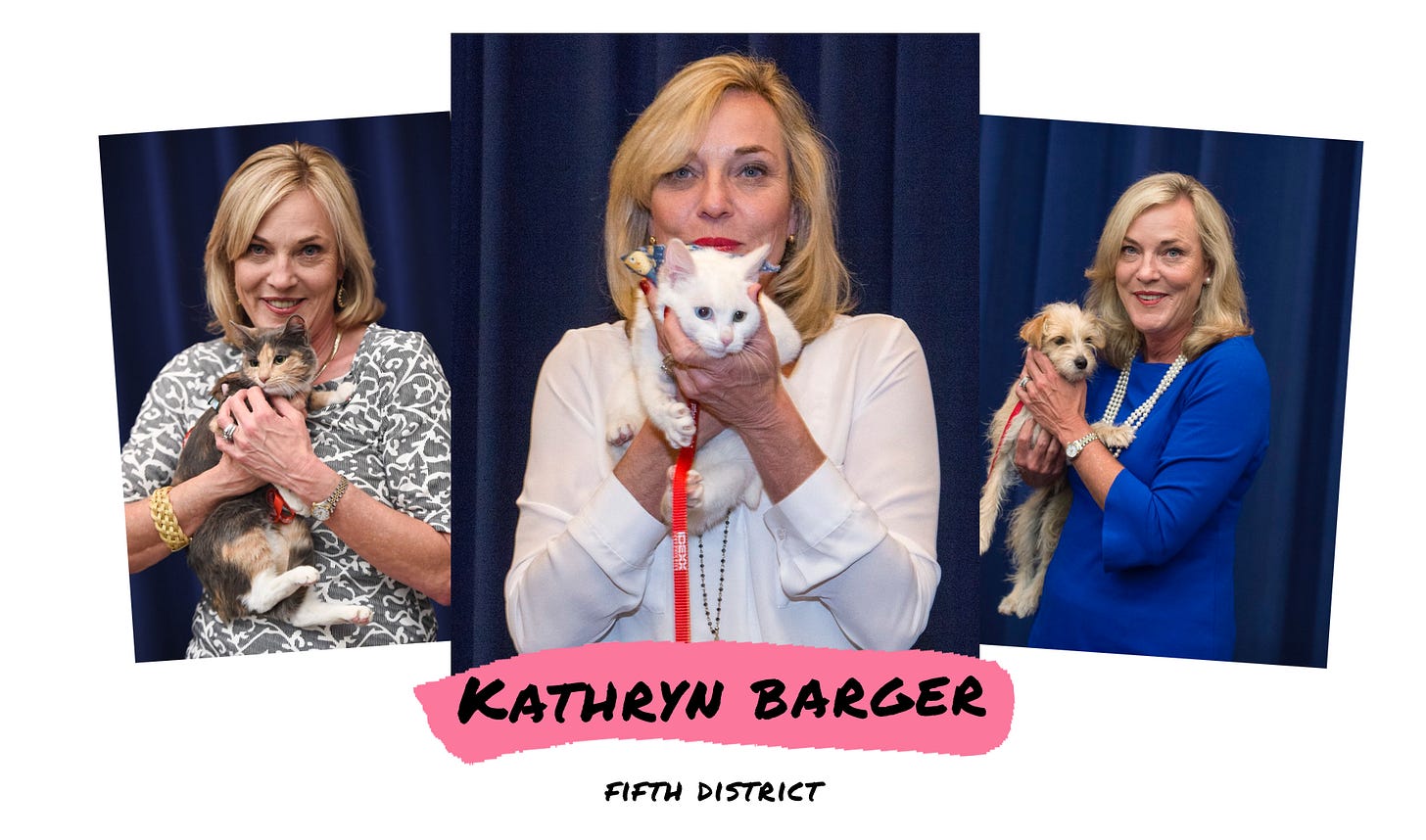 How much money they make
Each County Supervisor makes $213,833 a year. For comparison, LA City Councilmembers make a similar amount of money (roughly $207k a year).
Note that these are their documented salaries. There is plenty of speculation about additional sources of income that may come from various political favors.
How they are elected
The County Supervisors are elected by residents of their districts. Each of them represents roughly two million people. TWO MILLION PEOPLE. Imagine trying to understand how two million people feel about something.
Elections are staggered with the First and Third Districts coinciding with the Gubernatorial elections and the Second, Fourth and Fifth Districts coinciding with the Presidential elections. I'm not sure why it's broken up this way but it's dictated in our County Charter.
In 2002, voters approved term limits of up to 12 consecutive years (if elected three times). It's unclear to me if they can run again after taking a break (like Ridley-Thomas is doing with City Council). Before these recent term limits, individual County Supervisors held power for way too long (like Janice Hahn's father). Several past Supervisors served over 20 years with the county. You can see that pretty easily in this handy Wikipedia chart.
Again, all five supervisors represent roughly the same amount of people, but their districts vary greatly in physical size. In the district map below, you can see that Kathryn Barger represents the largest geographic area by a longshot. Her district (labeled 5 below) is around 2800 square miles which is more than half the total size of the county.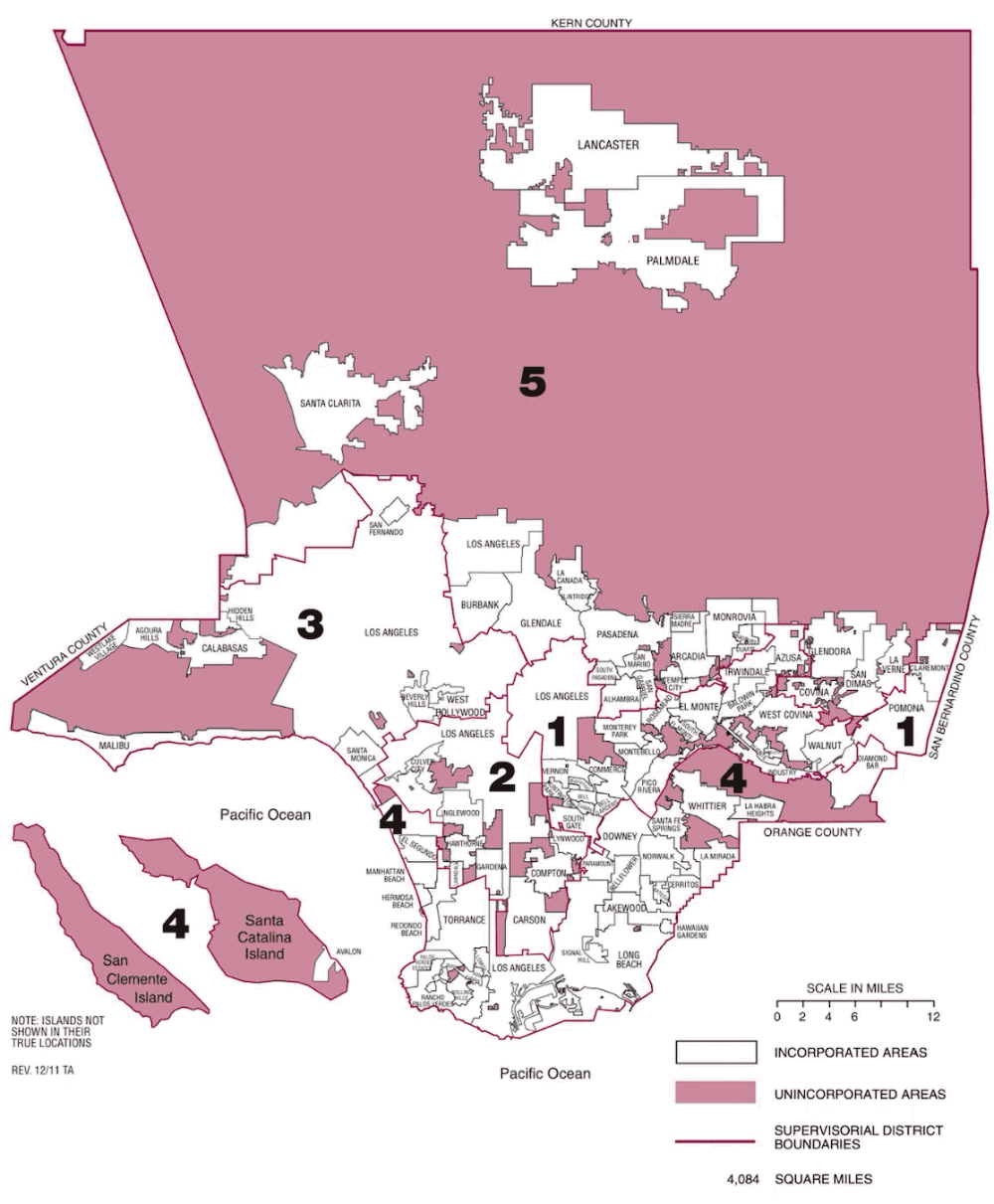 How to find your County Supervisor
You can find your County Supervisor by plugging your address into this Neighborhood Info tool or you can look it up by precinct map.
You can also just go to each of their websites and see if your city is listed there:
First District (Hilda Solis)
Second District (Mark Ridley-Thomas)
Third District (Sheila Kuehl)
Fourth District (Janice Hahn)
Fifth District (Kathryn Barger)
How you can get involved
The County Supervisors fly under the radar (sometimes in helicopters) and a lot of Angelenos have never heard of them. 
Learn their names. Look for updates on their work. Quiz your friends. 
They've got a lot on their plate right now with the COVID-19 response. Make sure they're addressing the most important issues.
You can:
Start looking for their names in the news or set up a google alert

Get in touch with their office. Share your concerns with them. You can find your district representative on their websites or just call the general phone number and ask.
Even though each of the Supervisors represent ten times the people City Council does, they are sometimes more accessible. Don't hesitate to ask them for help.
---
There's a lot more to unpack about LA County and about the Board of Supervisors. Simply trying to understand the organizational chart is enough to keep us busy for months. Alas, I have a short attention span and would like to move onto the next civic topic!
The role of government has rarely been as big as it is right now. No matter what is on your mind these days, it's likely that the government is calling the shots. And since there's a lot to know about the government, I'm interested to hear what y'all would like to read about next.
Fill out this one question poll or send me a note at civics@lexroman.com.
Until then, I'll be paying attention.
- Lex
Special thanks to

Gina Hermosillo

and

Mary Kenny

who gave notes on this issue