Discover more from LA Pays Attention (Archive)
Lessons in government and how to participate in it. An email newsletter for the citizens of Los Angeles. This is the archive. LA Pays Attention has moved to lapaysattention.com
Over 1,000 subscribers
How to participate in your government: booking meetings
Part three of a four-part series on getting your voice heard. This issue looks at how to schedule meetings with government officials.
Guest writer Rob Quan of Unrig L.A. shares his experience with how meetings can shift government action:
Last year, our coalition was fighting to complete an overhaul of the City of LA's system for publicly financing elections. It faced two separate stops in front of the Ethics Commission under two separate presidents. We had good meetings with both of them, but they held their cards closely and we walked away with little clarity on where they stood.  

Ultimately, we were far more effective than it initially appeared. During both votes, the Ethics Commission President noted they were undecided on key issues until sitting down with us for a meeting, and then proceeded to highlight our arguments. This left us with strong proposals that we were able to carry through City Council. Most meetings won't be quite this fruitful but each meeting informs the next, and they can often have an impact beyond what's immediately apparent. 
Our elected officials and their staff have a lot on their plates. To varying extents, they are generalists who have probably, at best, skimmed the important information you want to talk about. By digging into an issue and doing a little bit of their homework for them, you can ensure they have a reason to open up some space on their calendars.
—Rob Quan, Unrig L.A.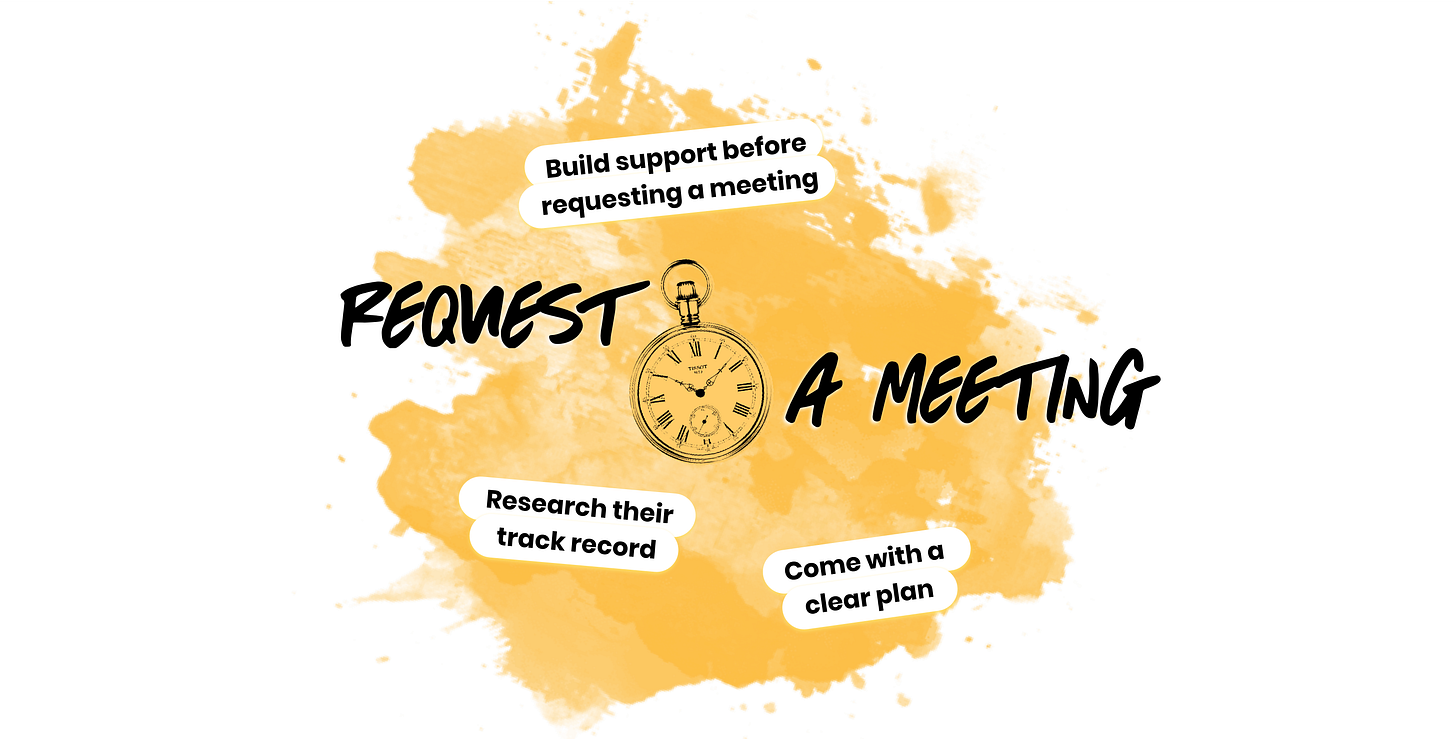 Requesting Meetings with Officials
🤔 
When To Choose This Method
When you want to be more involved in legislation your representative introduced

When you want your representative to introduce, support or oppose legislation 

When you have a project that is happening in their district (for example, you are opening a new business in the area or you want them to add a playground to your local park)

For fun—it's pretty fun and informative to meet with elected officials. (At least it's fun the first couple times.)
🔦 
How You Do It
Decide if you are going to request a meeting as an individual or as a representative of an organization or a coalition.

Look up your elected officials. Go to their website to find their phone number or email. (See this issue for how to look them up)

Reach out to their office. Let their staff know you'd like to request a meeting and what the focus of the meeting will be. Include the names and affiliations of everyone attending the meeting.

Prepare talking points and what you'd like to get out of the meeting.

Put on your nice clothes and show them how it's done!
⚡ How to Make it Impactful
Build support before requesting a meeting
Reach out to neighbors, community leaders or other organizations to see if they'd like to join you for the meeting. The more support you have for what you are trying to achieve, the easier it is to book the meeting and to get something useful out of it. This can be as simple as gathering a few neighbors to advocate for a stop sign. For more complex issues, you might reach out to established organizations like Moms Demand Action or the League of Women Voters. When I was focusing on gun violence reduction, the local chapter of the Brady Campaign asked me to schedule time with Congressman Adam Schiff because as a constituent, I had more weight to request the meeting.
Once you've gathered your group, make sure you align on your goals for the meeting.
Research their track record
Do some research on your representative. Know where they stand on the issue you want to meet with them about. See what committees they are on and which ones they chair. Look up how they've voted on similar issues in the past. Google recent news about them.
During the meeting, it can help to draw the line from their priorities to your issue. For example: "Councilmember, I know you've met with state legislators about traffic safety measures. This intersection has had 18 car accidents involving pedestrians in the last year. We think adding a four way stop would save lives now while more comprehensive plans are put in place."
Come with a clear plan
Be prepared to explain what you'd like to them do. You can either speak to this verbally or you can leave them with an actual plan of action. Earlier this year, I went with a group to meet with State Senator Durazo's office about housing legislation. A member of our group presented a slide deck with exactly the kind of bills we wanted introduced. They also included relevant data and studies that had been done by reputable organizations.
You don't have to go this far but also, you've already gone this far! You're meeting with the decision makers! Give them everything you've got. At the very least, leave them with a single, clear ask.
📖 Examples and Resources
---
Politics is a long game and it requires persistence. As Rob explained, you never know how much action you could catalyze. Meetings aren't just an opportunity to inform others, but also for you to learn what's holding an official up, what arguments they find persuasive, and how to approach the issue moving forward.
While it's hard to unpack all the forces at play behind every politician's decisions, it's worth working every angle we have to get them to take action. Building relationships with your peers outside government can make the work feel a bit lighter.
Speaking of peers, the next issue in this series looks at Neighborhood Councils as a starting place for getting more involved in your community.
Have a resource you think should be seen or heard? Have advice for people on how to participate in their government? Send it all my way: lex@lapaysattention.com
Always paying attention
- Lex
Special thanks to

Rob Quan

for his contributions to this issue and to

Melissa Acedera

and

Ricci Sergienko

for their feedback