Discover more from LA Pays Attention (Archive)
Lessons in government and how to participate in it. An email newsletter for the citizens of Los Angeles. This is the archive. LA Pays Attention has moved to lapaysattention.com
Over 1,000 subscribers
How to participate in your government: Neighborhood Councils
Our series on getting involved in government concludes with a look at our most local option: the Neighborhood Councils.
Neighborhood Councils offer an accessible entry point into local government. They can be a great place to practice your public comment skills, to meet your elected officials and to learn more about what's going on in your neighborhood. But they do have their limitations. In this issue, we look at what you can expect from your Neighborhood Council and how you can get more involved in their work.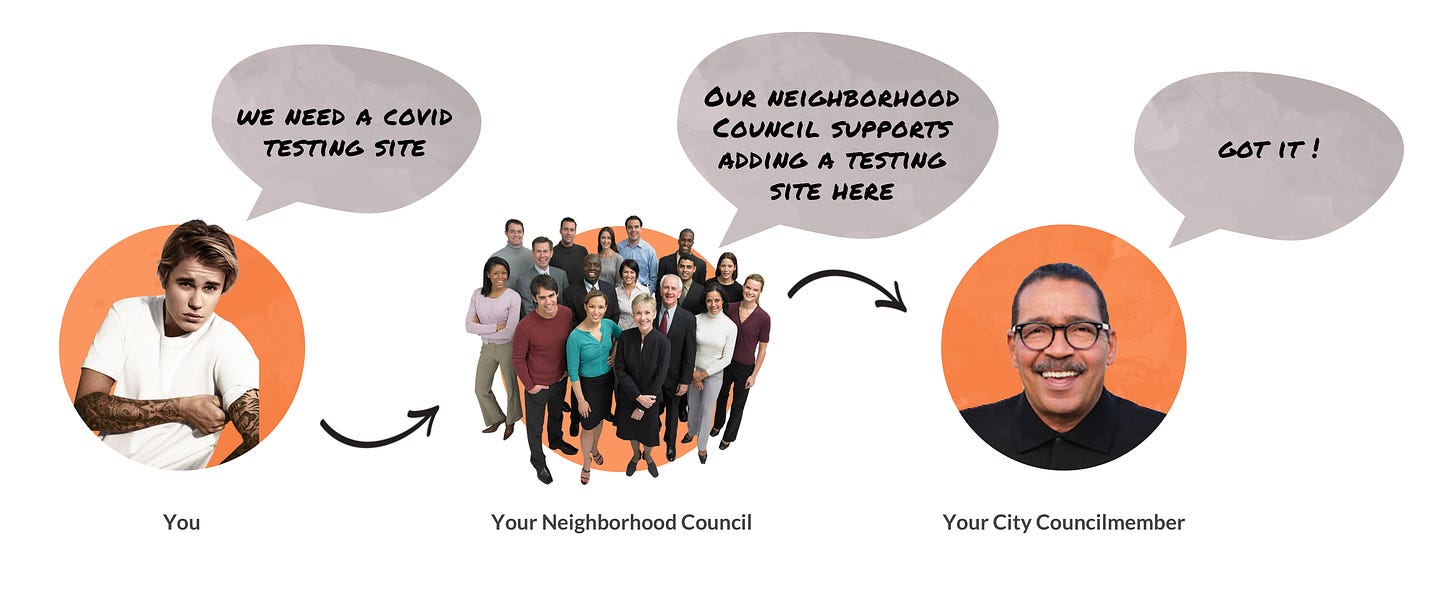 Neighborhood Councils (NCs) are advisory groups made up of residents, business owners, faith leaders and community organizations. There are about 100 Neighborhood Councils in Los Angeles, almost one for every part of town with some notable exceptions like Skid Row and Pacific Palisades. As we covered in our issue on LA's mayors, the Neighborhood Council system was created during the last major revision of our City Charter so they're about 20 years old. NCs were created as a way for each neighborhood in Los Angeles to have a voice at City Hall.
Sounds positive, right? In reality, the effectiveness of a Neighborhood Council varies widely based on who participates in them.
In some ways, NCs mirror the structure of City Council. They have governing boards as well as committees for issues like transportation and homelessness. While they are bound to California's rules for open government (a.k.a. the Brown Act) and they are under the purview of City Council, they have a lot of latitude in how they operate. They even get to decide who is eligible to vote in their elections.
It's important to note that they have no legislative power, meaning they do not pass laws. Think of them as a group of neighborhood leaders you can organize with to express the priorities of your neighborhood.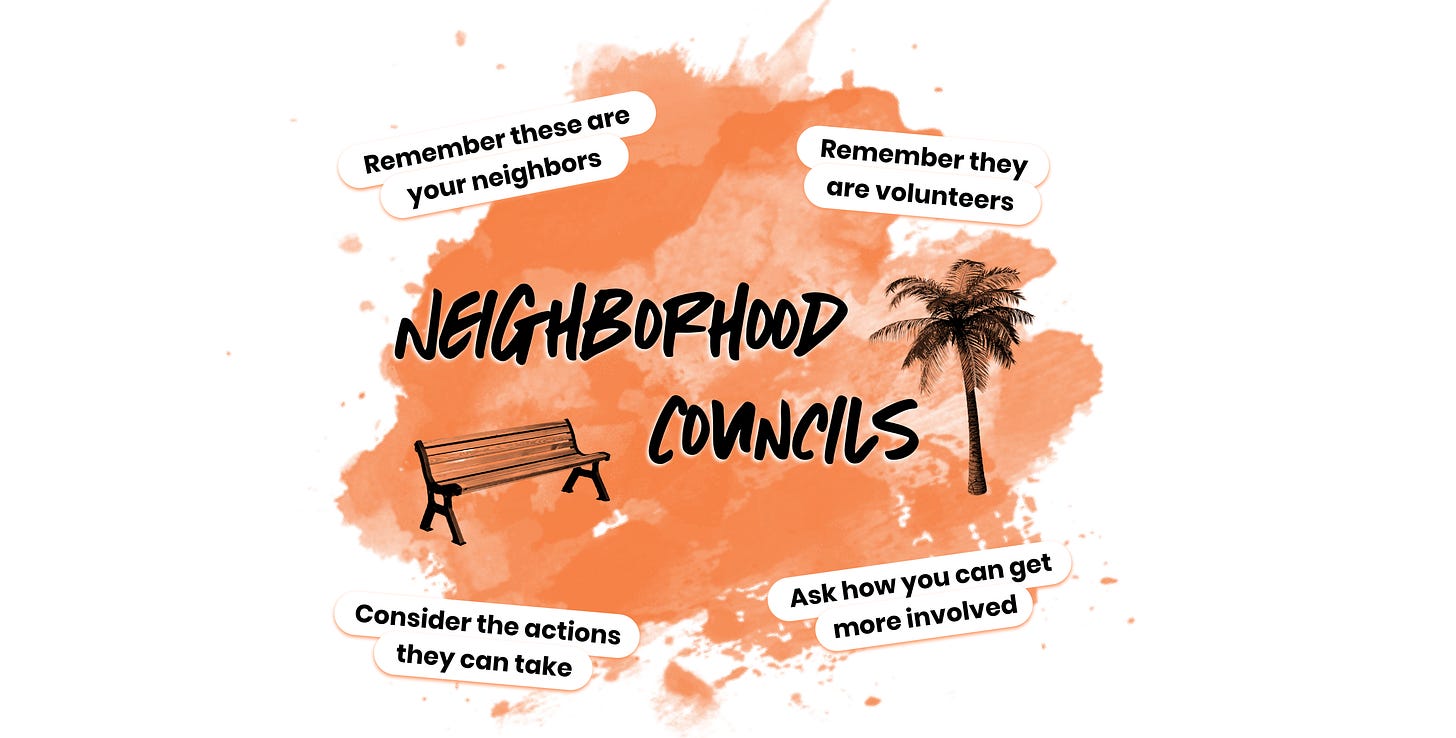 Neighborhood Councils
🤔
When To Choose This Method
🔦 How You Do It
Go to their website and look for their meeting calendar. Also, get on their mailing list!

If you've never attended their meetings before, I recommend going to their board meeting but they likely have committee meetings as well. If it's not clear which committees are active from their website, email them and ask for a current list.

If you'd like to speak during the meeting, you may have to fill out a speaker card. 

Similar to other meetings, you can speak on a specific agenda item or give a general comment.

They'll call on you and they'll let you know how much time you have.

Have your talking points ready and be clear about what action you'd like them to take.

If you're not ready to attend a meeting, you can always email them and ask questions first.
⚡ How to Make it Impactful
Remember these are your neighbors (and they do this for free)
When giving public comment to a Neighborhood Councils, you don't have to be as formal as you would with City Council or the County Supervisors. You are talking to your neighbors. You can speak a bit more from the heart. And you don't have to worry about messing up your comment. The stakes are lower than when you speak in front of lawmakers.
It's also good to keep in mind that Neighborhood Council members are volunteers. While NC board members are elected by their neighborhoods (a.k.a. you!), these folks don't get paid for any of their work. Kindness and patience goes a long way to get them on your side. 
Consider the actions they can take
When you are requesting action from your Neighborhood Council, keep in mind that they mainly do two things. They can write letters to City Council (known as Community Impact Statements) and they can give out small amounts of money (known as Neighborhood Purpose Grants). Make your comments with those results in mind.
Community Impact Statements are an advisory letter to City Council urging them to introduce, support or oppose legislation. They carry more weight than an individual's letter as they are meant to represent the neighborhood's views on an issue. Neighborhood Council Boardmembers hear public comment and read emails from constituents before voting to move forward with a Community Impact Statement.
Neighborhood Purpose Grants are micro-grants given by Neighborhood Councils out of their designated city funding. All NCs receive a pot of money from the city budget to spend on operations, outreach and neighborhood projects. This year, due to budget cuts, each Neighborhood Council received $32,000 to spend which means grants might be lower than in the past. Grants range from a few hundred dollars to a few thousand. Neighborhood Purpose Grants are only open to nonprofits and public schools. Projects that would be a good fit for these grants include cultural events, community service projects and neighborhood beautification efforts.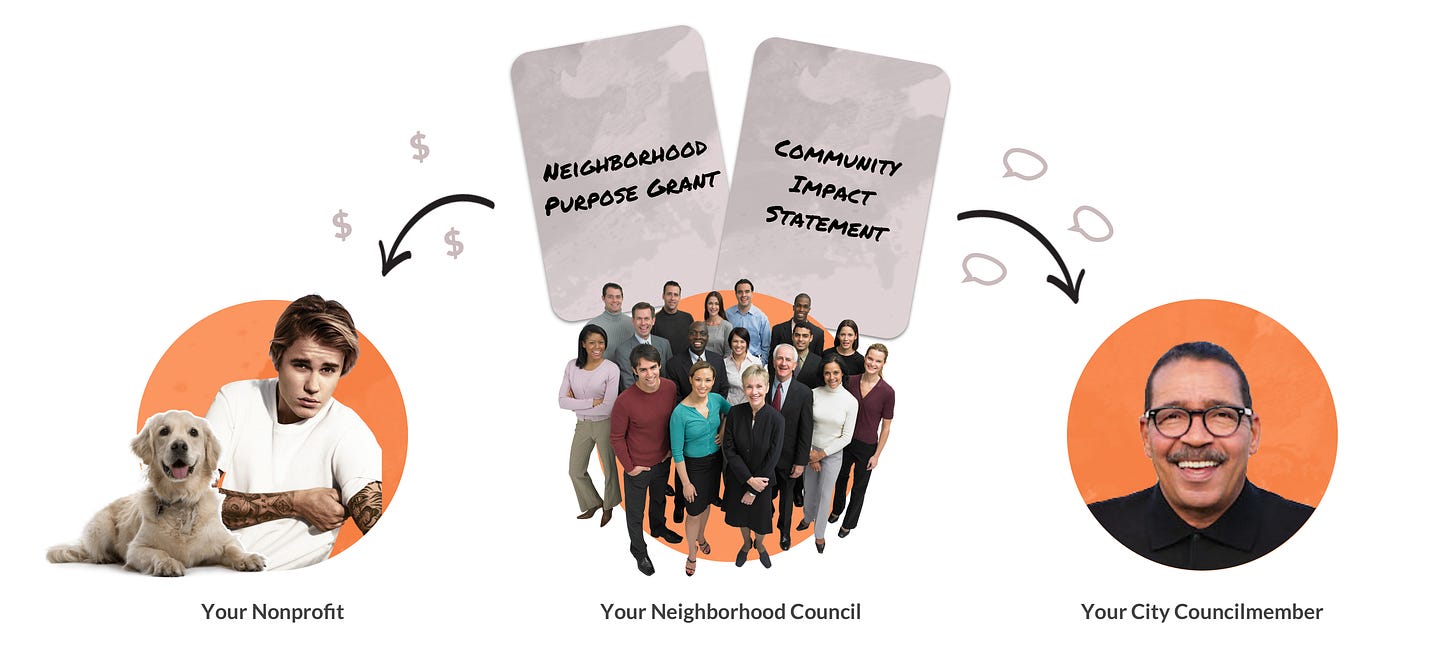 Ask how you can get more involved
Neighborhood Councils are as effective or as ineffective as the people participating in them. Luckily, you can have a very different relationship with your neighborhood leaders than you would with a paid elected official. You can also become one of them! After all, Neighborhood Councils are made up of people like you.
You can run for the board or you can join a committee. Reach out to your Neighborhood Council via email or social media. Let them know what you care about and ask how you can get more involved. NC leaders can often tell you about local nonprofits or other grassroots organizing happening in your area too.
📖 Examples and Resources
Locate a Neighborhood Council
Learn about Neighborhood Councils
Neighborhood Council Operations and Elections
---
This issue brings our series on participating in government to a close…for now. We've looked at giving public comment, writing, calling and meeting with your elected officials. And when it all seems a bit overwhelming, you can always get started with your Neighborhood Council.
We are in a transformational moment in Los Angeles. The more the public wants to participate in government, the more we are able to improve how the public can participate. We have a lot of work to do to make sure the workings of our government are truly accessible to all Angelenos.
Black Lives Matter-Los Angeles is starting to build that roadmap along with partners like Community Coalition. A few weeks ago, they held a People's Public Comment session in which they centered the voices of the marginalized and criminalized. In other words, people most affected by the investment in police and the divestment in Black communities. They made the effort to meet people where they are. They prioritized listening to voices that often go unheard. 
This is a striking difference from what we see in public forums managed by elected officials. BLMLA is showing our politicians what it looks like to actively and equitably engage the public. We may not have the right leaders in office right now, but leadership in this city extends far beyond the nameplates at City Hall. 
Every one of us has an opportunity and a responsibility to take action when we see injustice around us. Use these channels. Raise the volume. Make sure they hear you.
Always paying attention
- Lex

How to Participate in Your Government Series Recap